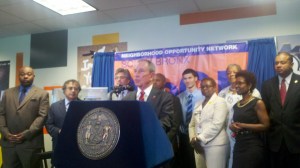 With every Democratic heavyweight in New York City and State was pressuring Assemblyman Vito Lopez to resign over the recent days, one not-so-Democratic voice abstained. At a press conference earlier today, which happened right before Mr. Lopez announced his intentions to not remain chair of the Kings County Democratic Party, Mayor Michael Bloomberg very deliberately did not weigh in on the issue.
"No, it's up to the Albany Legislature to investigate," he said when asked if he felt Mr. Lopez should exit stage right, stressing that he didn't know the details of the allegations and his desire to focus on New York City.
Mr. Bloomberg has been considered an ally of Mr. Lopez's in many circumstances in the past, although they weren't exactly best friends, especially when the investigations into Mr. Lopez's nonprofit began.
Asked if he felt it was appropriate for the State Assembly to spend over $100,000 of the taxpayer's money hushing up a previous sexual harassment allegation against Mr. Lopez, Mr. Bloomberg again declined to weigh in. However, he did pointedly say that such a thing would never happen in the city.
"I just don't know what the laws are in Albany," he answered. "In New York City that would not be possible because when we a settlement it has to be approved by the comptroller, when we write a check it has to be approved by the comptroller."
New York City Comptroller John Liu is known to antagonize Mr. Bloomberg's administration publicly, which the mayor not-so-subtly hinted at.
"I think, without taking a shot at anybody, the likelihood of that staying private is zero," he said, heavily emphasizing the last word.
"Does that answer your questions?