At least ten people have been shot at the Empire State Building this morning including an as-yet-unidentified shooter according to a spokesman for the New York City Police Department. The male shooter was killed, but the NYPD says further information about the gunman or his motivations is currently "unknown."
We'll update this post as soon as we know more.

Original Post (9:54 a.m.): At least four people have been shot at the Empire State Building this morning including an as-yet-unidentified shooter according to a spokesman for the department. The shooter was killed.
"At least four people were shot outside the building including the perp and the perp was shot dead-on-arrival," an officer with the NYPD Deputy Commissioner for Public Information told the Observer.
The NYPD spokesman said they had no further information about the shooter at this time. He also said they could not provide any information about how the incident began.
"We're still gathering information on that," he said.
Update (10:05 a.m.): According to the New York Post, the shooting stemmed from a "dispute between coworkers" and left "at least two dead including the gunman" and "a total of 10 people shot."
Update (10:21 a.m.): An NYPD spokesman, Sergeant Ryan, confirmed that ten people were injured in the shooting including the gunman, who was killed. Sergeant Ryan said it was a "male perpetrator" but that other information about his race, age or possible motivations is currently "unknown."
Update (10:33 a.m.): A Flick user, MCM Photography has posted a very graphic set of photos taken outside the building.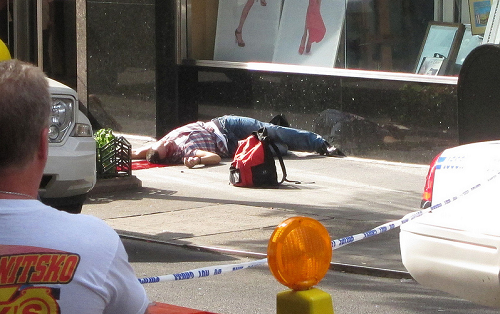 Update (11:04 a.m.): Intern-on-the-scene Jonah Wolf sends the below photograph of observers filling 34th Street.
Update (11:12 a.m.): The shooting was apparently sparked by a dispute between co-workers at a business inside the Empire State Building, according to the Daily News. WNBC is reporting that the deceased victim may be the boss of the shooter. DCPI wouldn't confirm the report.
Update (11:21 a.m.): Hani Durzy, director of corporate communications at LinkedIn, writes to The Observer: "We are extremely relieved that we can confirm that all LinkedIn staff in our Empire State Building Office are accounted for and safe."

Update (11:25 a.m.): Mayor Michael Bloomberg just confirmed that the shooter was a fired employee. He was a 5356-year-old worker at Hazan Accessories Imports, and shot a co-worker three times when a .45 semiautomatic handgun.
Update (11:32 a.m.): More details from the press conference: there are one dead and nine shot; the shooter attempted to shoot at a cop on the scene, according to the mayor. Police have begun letting people in to the Empire State Building's 33rd Street entrance, The Observer's Jonah Wolf reports.
 Update (11:37 a.m.): Another gruesome photo from @StephLauren:
Update (11:39 a.m.): The perpetrator has been identified as Jeffrey Johnson, 53 56, a former employee at Hazan Imports, where he designed women's accessories, according to Police Commissioner Ray Kelly. The victim was 41.

Update (11:54 a.m.): The Observer's David Freedlander tweets that the shooting occurred by building's north entrance, near 34th Street and Fifth Avenue, according to Commissioner Kelly's post-press conference comments, and that one of the victims hails from North Carolina.

A receptionist at one building tenant, meanwhile, tells The Observer that building management told her company that workers could leave the building through the 34th Street entrance, but can only enter on the building's south side.
Update (11:57):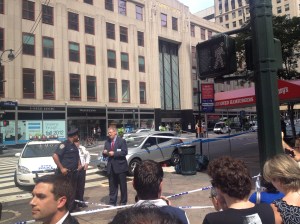 Update (12:17): Statement from Gov. Andrew Cuomo, who commended NYPD and emergency responders: "Our state has no tolerance for senseless acts of violence that harm our people, and we will do everything possible to ensure that law enforcement officials have the tools they need so residents of the city and tourists can enjoy everything New York City has to offer without fearing for their own safety and security."
Update (1:16) After Mike Bloomberg's press conference, Ray Kelly briefed reporters on the shooting. He updated the shooter's age to 56–earlier accounts had him at 53–and said that there were multiple cross complaint harassment allegations between the shooter and victim that lasted a over a year. "There was an ongoing dispute between the suspect and the person that he killed." He added that it appears as if several of the nine shot were wounded by police responding to the scene.
Update (1:26): "Within a quarter of a second, it was mass chaos," an audibly upset Kim Levering told The Observer's Daniel Edward Rosen over the telephone from her Park Slope apartment. "
Ms. Levering, a senior writer and communications director at the nonprofit Autism Speaks had gone to work like any other day, exiting the Q train at 32nd Street and Sixth, and was walking east on 33rd Street when the gunman opened fire.
There was a "pop, pop, pop," Ms. Levering said, followed by mass hysteria. She turned to head back west to Sixth Avenue, but got caught in the crush of people trying to flee the chaos. ""I almost got trampled when I got up against the wall and tried top turn to go back," she said. "You couldn't tell if the shooter was chasing us up the street."
Ms. Levering, who told The Observer that she was leaving New York tomorrow on a trip to Burning Man, made her way to Sixth Avenue, walked downtown to 30th Street and made her way east to her office—where she stayed for a few minutes before deciding to head home.
"The adrenaline was so intense that I was uncontrollably shaking for two hours," she said.
Update (1:33): The Wall Street Journal has identified the victim as Steve Ercolino, 41, a vice president of sales at Hazan Imports, according to his LinkedIn page, and a 1992 graduate from SUNY Oneonta.

Update (1:39) Tony Malkin, whose family controls the Empire State Building, released a statement expressing his sympathies to the victims and noting that the violence didn't spread to the interior of the building: "This unfortunate event had nothing to do with the Empire State Building or with terrorism," he said. "The Empire State Building and its Observatories remained open throughout, and continue to be open and operating." The Observer has the complete statement.
Update (2:03): The Times points us to a t-shirt art business that appears to have been run by the shooter, Jeffrey Johnson, a graduate of Ringling School of Art & Design in Florida.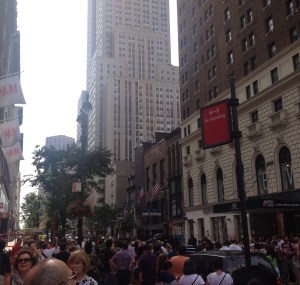 Update 2:20pm Jonah Wolf reports from the scene at the Empire State Building:By 10:30 AM, a crowd had gathered at the police line on 34th Street and Broadway, just east of Herald Square. Employees of businesses on that block—ASA College, Aéropostale, Forever 21—were told to show their ID or call their managers in order to cross the police line. Onlookers watched as police cars entered and exited the block.
Mark Lee, visiting from Essex, England, said he and his family "heard the sirens when we were going in" to the Empire State Building, but were still able to ride up to the 88th floor unaware of the shooting outside. "You can even go up to the 102nd floor," added his younger son, Robert, after leaving the police barricade.
"I'm glad I was late. I didn't have to dodge any bullets. God works in mysterious ways," said an employee of tour bus operators City Sights who declined to give his name.
Brandon Thorpe, who witnessed the shooting on the way to work at Penn Station, said, "You know that was retaliation. That means we have to get guns not just out of his hands but out of everybody's hands."
"I heard five gunshots," said Maria Almodovar Ramos, who was at work in the building on 10 West 33rd Street when the shooting occurred. "The shooter then ran toward Fifth Avenue." Seeing the police on his tail, the shooter apparently abandoned his grey Nissan and ran up Fifth Avenue toward 34th Street, where he was shot.
At approximately 12:50, a medical examiner van was seen leaving the crime scene.
Update (2:33): Raymond DiGiuseppe, chair in the Department of Psychology at St. John's University, writes in on the shooter: "Jeffrey Johnson is too old for this aggressive act to be from the onset of psychotic disorder; and he's too old to have unusual aggression typically found in younger men," Dr. DiGiuseppe said in an emailed statement. "Most professionals in our field think of aggression as impulsive, but we find that the three R's revenge, resentment, and rumination can also play an important role in triggering aggression. Bringing the gun to his previous work place shows some degree of planning. Without knowing if he has a history of psychotic behavior, personality disorder, or neurological condition, if I had to predict, I would hypothesize that he has been ruminating about getting revenge and harboring feelings of resentment for the past year since he lost his job and that he would view this event as the result of being treated unfairly."