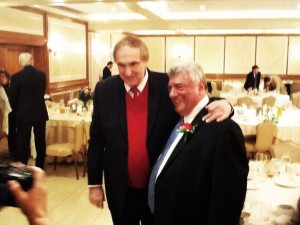 With Assemblyman Vito Lopez's announcement that he will not seek to continue his leadership in the Kings County Democratic Party, the race to replace him has currently shifted its focus to three names: District Leader Frank Seddio, Assemblyman Karim Camara and District Leader Jo Anne Simon. Mr. Seddio, an establishment favorite, is currently the frontrunner, and sources told Politicker that county insiders believe he's already secured the necessary number of votes.
Ms. Simon's and Mr. Camara's paths to challenging Mr. Seddio are not equally steep, however.
Ms. Simon is most aligned with the reform-minded wing of the party, which controls roughly three votes out of the fifty-three total district leaders. On the other hand, Mr. Camara could potentially unite the reform vote with many of the African-American district leaders, eager to have their presence felt. While Mr. Camara, who endorsed the Lopez-backed candidacy of Councilman Erik Dilan when he challenged Congresswoman Nydia Velázquez, isn't the typical anti-Lopez reformer, he has shown some breaks with the establishment and has stature as the chairman of the Legislature's Black, Puerto Rican, Hispanic & Asian Legislative Caucus.
However, Mr. Camara is not a current or former district leader and would thus need either a rules change or another district leader, Jesse Hamilton, resigning in the hopes that Mr. Camara could take his position in a special vote to replace him. Sources told the Politicker that some district leaders are meeting today to explore that very possibility.
Another problem Mr. Camara acknowledged could potentially block his path is the 11 at-large members hand-selected by previous leaders, including Mr. Lopez. This is a fairly reasonable concern, as in a vote taken last year to replace outgoing District Leader Darryl Towns, these unelected votes helped hand Mr. Lopez a 36 to 10 margin against a sitting congressman, Ed Towns, seeking his son's seat.
"I don't know whether at-large members will be voting on who the next county leader is," Mr. Camara told City & State. "I would have to look at the rules and regulations of the state party and look at the legitimacy of that group. That's something that would be the main question."
At-large members, while undemocratic and controversially added in 2010, aren't necessarily uncommon. The New York Post reported that every other county organization in the city has them, with Staten Island's 14 at-large members equaling its total of elected ones. Kings County Democratic Party Rules dictate that its 11 at-large votes are weighed equally with the other 42, so either a rules change or outside intervention is needed to eliminate them.
Even discounting the at-large members — the establishment-aligned list of which includes the president of Mr. Seddio's club — Mr. Camara's path would not be easy, as Mr. Seddio is well-positioned to resurrect the coalition that first elected Mr. Lopez in 2005. And while there are multiple district leader races happening on September 13th, only a couple, notably Lincoln Restler's reelection bid, have the potential to really sway votes to or from Mr. Seddio, assuming Mr. Camara is able to consolidate support among the African-American community.
Indeed, Mr. Seddio, while declining to speak to the press, has all but openly campaigned for the position. Just this morning, Borough President Marty Markowitz announced an official endorsement for him, as Mr. Seddio "embraces the diversity of Brooklyn like I do, and among his greatest assets is the ability to work with everyone, being open and responsive to fresh ideas."
Those opposed to Mr. Lopez's rule, however, don't seem ready to give up without a fight, and plenty of political fireworks seem like they're ready to fire off.