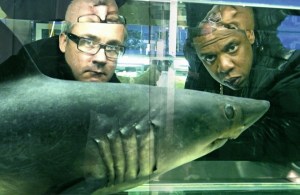 This November, the Gagosian Gallery will publish a new book that collects the interviews of Bill Powers, the downtown dealer, writer and reality television host. The book's publication is loosely tied to the opening of the gallery's new cafe and bookstore at 980 Madison—appropriate since the venue will surely cater to those in the Powers mode of art-world hobnobbing.
The book will collect 24 interviews with artists and thinkers dating back to Mr. Powers's days as editor in chief of Blackbook, though most were conducted later for Purple magazine (Mr. Powers is also an occasional contributor to The New York Times). There are also a few new interviews, including an introductory one with critic Dave Hickey. Standout names include John Currin, Dana Schutz and Rashid Johnson, as well as a sit-down with Damien Hirst and Jay-Z. Taken together, "it starts to have kind of a feeling of a conversation beyond the conversation that he's having with any one artist," said Gagosian editor Alison McDonald. The cover will be inspired by an Adam McEwen painting.
This marks the second book this year for the Half Gallery co-owner, whose novella What We Lose in Flowers was published by Karma in March. You're approaching Stephen King levels of productivity, Mr. Powers!