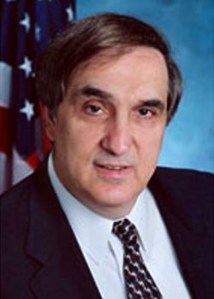 Congressman Jerry Nadler and others are joining District Leader Lincoln Restler in demanding Assemblyman Vito Lopez end his tenure as the Chair of the Kings County Democratic Party following the explosive sexual harassment allegations that included forcing himself on at least one staff member as she struggled to push him off.
"I applaud the work of both the bi-partisan Assembly Ethics Committee and Speaker Silver for the swift and judicious action in removing Assemblyman Vito Lopez from the Chairmanship of the Assembly Housing Committee and in taking other punitive steps as a result of the findings that Assemblyman Lopez was guilty of multiple acts of sexual harassment and abuse," Mr. Nadler said in a statement this afternoon. "In light of the reprehensible conduct revealed by the Ethics Committee, I call upon Assembly Lopez to do the only honorable thing by immediately resigning his positions as a Member of the Assembly and as the County Chair of the Brooklyn Democratic Party."
Mr. Nadler lives in the Upper West Side, but about 40% of his district is in Kings County and his stature as one of the leading members of the New York congressional delegation makes his call very notable.
Meanwhile, Daily News reporter Glenn Blain tweeted that his paper has gotten ahold of Mr. Lopez, who called the allegations "unfounded" and stated that he will not resign.
In addition to Mr. Nadler, other calls for Mr. Lopez to step down have been hitting reporters' inboxes:
From Public Advocate and likely mayoral candidate Bill de Blasio:
"Today's findings have serious implications and cannot be swept under the rug. Assemblyman Lopez has violated the trust and safety of his staff, and broken faith with the people he represents. It is time for him to resign his seat in the Assembly and step down as Brooklyn Democratic Party Chair."
From Borough President Marty Markowitz:
"As president of the county with one of the largest Democratic party organizations in the country, I expect Vito Lopez to do the right thing for Democrats in Brooklyn, New York State and nationwide as we fight to re-elect President Barack Obama to a second term."

From Council Speaker Christine Quinn, a leading 2013 mayoral contender who was not exactly an ally of Mr. Lopez's:

"There must be zero tolerance of sexual harassment in all workplaces, always. Chairman Daniel O'Donnell and the Assembly Committee on Ethics and Guidance have conducted a serious, thorough investigation and Speaker Sheldon Silver's actions are warranted and appropriate. Because of the seriousness of these findings, Vito Lopez should immediately resign from office and step down as chair of the Brooklyn Democratic Party."

From State Senate candidate — and Lopez foe — Jason Otaño:

"I applaud Speaker Silver and the bi-partisan Assembly Committee on Ethics and Guidance for the forceful action they took against Vito Lopez. Given the extent of these allegations it should not stop there. Lopez is clearly unfit to serve our community and should immediately resign his assembly seat and step down as chair of the Brooklyn Democratic Party. I urge my opponent Martin Dilan to join me in this call for responsible and ethical leadership in North Brooklyn."

"Of course this goes beyond politics. Let's not forget the women who suffered from this gross abuse of power. We must work toward more protection of women's rights in the workplace and our communities."

From likely mayoral candidate Manhattan Borough President Scott Stringer

"I am calling on New York Assemblymember Vito Lopez to resign from office, based on the findings of the Assembly's Standing Committee on Ethics and Guidance. Any elected official who engages in such blatant sexual harassment and abuse of staff members has no business serving the public. Mr. Lopez has violated any trust that voters placed in him, and he should step down immediately.

I also want to thank Speaker Silver and the Assembly Standing Committee on Ethics and Guidance for their diligence and responsibility in this matter."

From underdog mayoral candidate Tom Allon:

"There should be zero tolerance for sexual harassment in any situation but this is particularly disturbing coming from someone in Mr. Lopez' position. His status as leader of the Brooklyn Democratic Party is now severely compromised and his position has become untenable. I call on him to resign immediately."

"This is what happens when one person or one party is in power for too long. It's time that we break free of the corruption and abuses of the Democratic party machine in New York City. Time for new leadership and a fresh start."

From District Attorney candidate Abe George:

I join Lincoln Restler, Matthew Cowherd and the other New Kings Democrats in a petition to ask Mr. Lopez to resign. For years Mr. Lopez has acted with impunity. It is well known that he has voted from a sham address in Brooklyn while living in Queens. He has hired his girlfriend for a no show job at his senior center. Why haven't these criminal acts been investigated? Current District Attorney Charles Hynes recused himself from investigating Lopez because of his friendship with the Brooklyn Democratic Boss. We need a D.A. that is ready, willing and able to investigate and tackle political corruption.