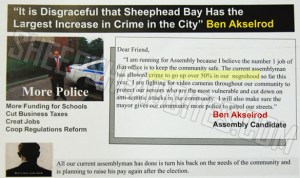 At the end of last week, Sheepshead Bites reported that Ben Akselrod, campaigning for the State Assembly in southeastern Brooklyn, mistakenly sent out campaign literature describing crime going up in the "negrohood."
"Dear Friend, I am running for Assembly because I believe the number 1 job of that office is to keep the community safe," Mr. Akselrod wrote. "The current assemblyman has allowed crime to go up over 50% in our negrohood so far this year. I am fighting for video cameras throughout our community to protect our seniors who are the most vulnerable and cut down on anti-semitic attacks in our community. I will also make sure the mayor gives our community more police to patrol our streets."
Some uncertainty remains whether the mistake was a typo or a Freudian slip, as the difference between "neighborhood" and "negrohood" is more than a couple missed keystrokes.
Earlier today, Sheepshead Bites followed up with another story, reporting that the campaign treasurer, whose name was on the mailing's return address, was upset with the situation, and concerned that crazy people might try to contact him, resigned.
Mr. Akselrod is running in a competitive primary against incumbent Democrat Steve Cymbrowitz. Voters head to the polls September 13.
Whoever wins will face off against Russell Gallo, a Young Republican club leader and a district leader in the area. Brooklyn's Republican Party is heavily targeting the seat as the Orthodox and Russian Jewish populations there have shown conservative tendencies in recent years.