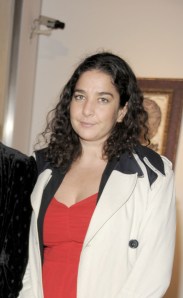 Carolyn Ramo, a former partner at Chelsea gallery Taxter & Spengemann, which closed at the end of last year, has landed at the nonprofit Artadia, where she will serve as executive director. Before joining T&S, Ms. Ramo had been a production director at David Zwirner, a director at Nicole Klagsbrun.
"I think there are a lot of different art worlds," an elated Ms. Ramo told Gallerist by phone yesterday evening from the organization's Dumbo offices. "The one that I know from working at David Zwirner and Taxter and Spengemann is quite small, and what's wonderful about Artadia is that it expands that. I'll be bridging the gap between the two."
Artadia was founded in 1997 as the ArtCouncil by investment banker and art collector Christopher E. Vroom with the mission of supporting artists through unrestricted cash awards. Since 1999, the nonprofit has given roughly $3 million in awards, which are open to all artists and presented by juries involving prominent curators, artists and critics. The first awards were given in San Francisco, but Artadia soon expanded to include other cities like Chicago, Houston, Boston and Atlanta. They're about to do award cycles in Chicago and Houston, in September and October respectively.
Beyond those awards, Artadia gives artists a range of support. In 2009, it opened an artist residency program in New York, which brings Artadia award winners from other cities to New York for a three-month stint at the International Studio and Curatorial Program (ISCP) in Brooklyn. In 2010, Artadia launched a publications program and an Exhibitions Exchange program that presents the work of the awardees from one city in a venue in another city—like an exhibition of Boston artists that it organized at the San Francisco Art Institute.
Last night, when we spoke to Ms. Ramo, she was preparing for an opening of Artadia's first in-house exhibition—a show of artists who have received Artadia awards before and have moved to New York. The event also served to debut Artadia's new space in Dumbo—its headquarters were formerly located in Chelsea. "Through all these experiences, we try to shepherd them into their next steps," she said, sounding not unlike a dealer of emerging artists.
Congratulations to Ms. Ramo.