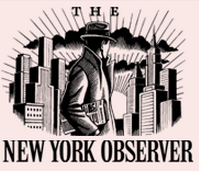 The Observer Media Group announced today that editor-in-chief and editorial director Elizabeth Spiers is leaving her post at the end of August to launch a new company.
"I'm incredibly proud of what we've built to date and will miss the fun of putting out The Observer every week and doing the kind of smart, witty stories we do," said Spiers. "But I'm also leaving it in excellent hands and look forward to enjoying it as a reader with no red pen in my hand."
Executive Editor Aaron Gell has been appointed The Observer's new editor-in-chief, overseeing the weekly paper, Observer.com, and the websites Betabeat, Politicker, GalleristNY and VelvetRoper.
"Elizabeth has been a phenomenal editor and manager," said Jared Kushner, principal owner of Observer Media Group. "Not only did she bring on a wonderful team, she redesigned the paper and websites, launched a slew of new verticals and web properties, and invigorated the newsroom, all while more than doubling web traffic. I'm grateful for her efforts, and I look forward to seeing what she does next."
"I'm thrilled to run The Observer," said Mr. Gell. "It's the best job in media, and I couldn't ask for a better team of reporters," he said. "Spiers is a genius. I don't doubt her startup will be a huge success."
Ms. Spiers is not going far. In September, she will take on a part-time consultant role on the business side, focusing her efforts on the development of a creative services team for Observer Media Group.