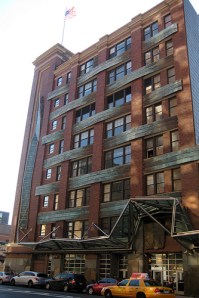 Last week, the Chelsea Market Coalition released a poll that found broad support across the city as well as on the West Side of Manhattan for a 300,000-square-foot addition to the office and retail complex on Ninth Avenue. Opponents of the plan just sent The Observer the following letter decrying the poll.
It is noteworthy that no mention was made that in order to get permission to build, Jamestown Properties needs to get existing zoning  changed. This zoning was gotten by the efforts of the  Chelsea community,and it is inappropriate and wrong for the zoning to be changed for the benefit of Jamestown Properties.

We believe that the poll is flawed because of the kinds of questions it asked, and equally important, by the questions it did not ask. As we know, this supposed independent poll was paid for by Jamestown Properties, and they are not independent, they want the plan to be approved.
Our two organizations, Save Chelsea and the Council of Chelsea Block Associations [CCBA],

are responding to your recent article about a poll conducted to supposedly find out how people

feel about the Jamestown Properties development proposal for the Chelsea Market.Save Chelsea is a community based organization established to protect the residential character of Chelsea and the quality of life for the residents of our neighborhood. Our membership includes over 800 individual individuals and families.

The CCBA, established in 1961, is a coalition of the block associations active in the Chelsea area.

It is interesting to note, that the community being directly affected, Chelsea, did not have its poll results mentioned, because it was stated in your article, the sample was too small.

The residents in the other neighborhoods and areas of the city who answered the poll questions were not familiar with the history, concerns, and issues related to the Chelsea Market proposal. They were not present at the Community Board Public hearings during which the overwhelming majority of speakers voiced their opposition to the Chelsea Market. They did not hear the Community Board members themselvessay that the plan is bad, very bad, but because they felt stuck with it, because it was a done deal, they had to
approve it and hope for some changes.

The residents in the other neighborhoods apparently did not know that thousands of Chelsea residents signed petitions and wrote letters opposing the plan as being bad for our neighborhood.'

Your readers were not told that the developer, Jamestown Properties, has the opportunity to build in another community which wants and would welcome such a project, and that financial perks are available. Why not build in a community where you are wanted instead of where you are not wanted

And……….with regard to the point made about the jobs being provided, the jobs would still be provided, the workers would just be working at another location. We are not against unions and jobs.

Legitimate concerns have been raised about overdevelopment in Chelsea and the effects on our infrastructure. The High Line, which we supported, by its own words, now talks about having approximately three million visitors coming to visit it. The point being made is that the neighborhood is already saturated.

You should be aware that that our opposition to what we consider to be a bad plan,  a plan that is not needed,has nothing to do what some people say is a Not In My BackYard [NIMBY] position. Good devevelpment iswelcomed, bad and overdevelopment is not. Save Chelsea and the Council of Chelsea Block Associations has supported appropriate development and service programs for our community. We are not NIMBY organizations.

Mention is made about potential givebacks. Unfortunately as has occurred in other neighborhoods, the promiseof givebacks to a community don't always come to fruition.

However, a bad plan is a bad plan, and the offering of some changes and some givebacks does not make the plan a
a good one for the community and we do not want to be 'bought" to give our approval for the bad pllan.

As the saying goes, "there is more than meets the eye" and unfortunately, those who answered the flawed poll
descibed in the article your paper published, did not have all the information, and were not asked the appropriate
questions.

We trust that our response will be published in your newspaper.

Thank you.

Bill Borock, President
Council of Chelsea Block Associations

Lesley Doyel and Justin Hoy, Co-Presidents
Save Chelsea