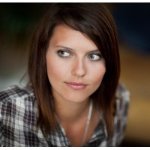 So you've got slumping equity sales. You've already hired executives away from some of your competitors, and you're hopeful that you've managed your way through some of the problems that plagued the business in last year. But look, this is 2012, volume is down, you need a little extra something to get perk your clients' ears up.
Okay, so you're Citigroup:
And you hit upon an idea. There's a certain equity-derivatives salesperson around town who might be available. It's not just that she used to be a Ford Model (American Eagle, Abercrombie & Fitch and Nordstrom, thank you very much), or that she was a contestant on the fifth cycle of America's Next Top Model (Business Insider remembers our heroine, who later "helped create a lesbian blog called OutNYLez," for kissing fellow contestant Sarah Rhoades in a limo).
Her whole résumé screams that this is someone that your clients will want to know: Goldman Sachs internship, check. Forthcoming book on our collective social media obsession, check. MTV host? HuffPo blogger? SAT tutor? All of that.
Per Bloomberg:
Citigroup Inc. (C), the third-biggest U.S. bank by assets, hired former "America's Next Top Model" contestant and MTV anchor Kimberley Stolz for a job in equity- derivative sales, said two people familiar with the matter.

Stolz, 29, left brokerage BTIG LLC to join Citigroup, according to the people, who requested anonymity because the move isn't public. Stolz will be a vice president and report to David Silber, head of flow equity-derivative sales, the people said. Simon Yates oversees global equity derivatives.

Chief Executive Officer Vikram Pandit, 55, is seeking to halt a slump in the equities business after revenue tumbled more than 40 percent in the 12 months ended June 30 from the previous year. The bank overhauled the unit in March and has since lured equity-derivatives executives from competitors including Citadel LLC, Jefferies Group Inc. (JEF) and Deutsche Bank AG.

"Our business is past the problems of the second half of last year and we continue to execute well," Chief Financial Officer John Gerspach, 59, told analysts last month. "Low levels of client activity remain a substantial challenge and that will likely continue into the third quarter."
Good hire.