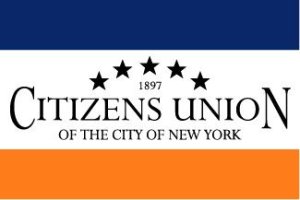 Earlier this morning, the good government group Citizens Union weighed in for a number of contested primaries, formally endorsing challengers running against elected officials facing indictments and investigations, as well as issuing their "preference" in other races, including candidates running against incumbents that have been relatively controversy-free.
"A renewed and heightened public focus and interest towards ethics, good governance and reform mean that our standards for preferred candidates is higher than ever," Dick Dadey, the organizations' executive director said in an attached statement. "Two incumbents running for re-election have been indicted—Senator Shirley Huntley and Assemblymember William Boyland, Jr.—while questions of ethics have been raised about two other assemblymembers—Naomi Rivera and Carmen Arroyo—which are among the reasons why we are supporting their four challengers. Citizens Union believes that our preferences will help highlight the candidates in the September primaries who have pledged to support an agenda of good government and political reform and act on the verbal commitments they have made."
It's easy to get lost in all of the scandals listed, but as a reminder:
Senator Shirley Huntley was arrested last Monday on charges that she used a sham nonprofit to line the pockets of her friends and family. Just today, it was reported that the investigation into her earmarks has been widened to every one she's every issued. Councilman James Sanders has been running an aggressive campaign and he might now be considered the favorite when voters head to the polls on September 13th.
Assemblywoman Naomi Rivera has been caught in a string of scandals and bad headlines since the New York Post first revealed her secret Facebook page and presented evidence that she has been using her influence to land jobs for her boyfriends and allegedly used nonprofit funds for personal use. She faces multiple investigations and multiple challengers, but businessman Mark Gjonaj, a fundraising machine who's secured notable endorsements, stands out among them.
Assemblyman William Boyland allegedly performed the classic act of corruption and solicited a bribe to pay for his legal fees in an unrelated corruption trial. He was acquitted in the first one, but a plea deal or a second trial could emerge any day now for the latter. He faces around eight challengers, but activist Tony Herbert seems to be out there in front.
Assemblywoman Carmen Arroyo hasn't been in the limelight for controversies as recently as the others, but she has her fair share, including keeping a convicted felon on state payroll and being caught up in her grandson's indictment. As these stories aren't leading the tabloid covers lately, it remains to be seen if Maximo Rivera has enough electoral power to topple her.
These politicians have all maintained their innocence of any criminal activity.
The endorsement is a nice get for these candidates, as it can provide a nice stamp of approval for campaign mailings and messages to supporters.
View the full list below:
Bronx
Assembly District 80 Mark Gjonaj (D), challenger
Assembly District 84 Maximino Rivera (D), challenger
Assembly District 87 Daniel Figueroa (D), open seat
Brooklyn
Senate District 18 Jason Otaño (D), challenger
Assembly District 42 Rodneyse Bichotte (D), challenger
Assembly District 55 Anthony L. Herbert (D), challenger
Assembly District 57 Olanike T. Alabi (D), open seat
Assembly District 60 No preference
Manhattan
Surrogate Judge Barbara Jaffe (D), open seat
Senate District 27 Brad Hoylman (D), open seat
Senate District 31 Adriano Espaillat (D), incumbent
Assembly District 72 Mayra Linares, open seat
Assembly District 74 Brian P. Kavanagh (D), incumbent
Queens
Senate District 10 James Sanders Jr. (D), challenger
Senate District 15 Eric A. Ulrich (R, I), open seat
Senate District 16 No preference
Assembly District 25 Nily D. Rozic (D), open seat
Assembly District 40 (Democratic) Ron Kim (D), open seat
Assembly District 40 (Republican) No preference
Update: Mr. Espaillat's campaign passes this statement from the senator trumpeting the endorsement:
"I am honored to earn the endorsement of Citizens Union, a government reform group that understands the importance of restoring fairness and transparency in our democracy. I was equally proud to support independent redistricting and stand against Republican efforts to jam a gerrymandered redistricting plan through the legislature. Additionally, I am a strong supporter of full campaign finance reform, including public financing of elections. After experiencing the dysfunctional elections process, first hand, I will continue to work to reform the electoral system including the Board of Elections."