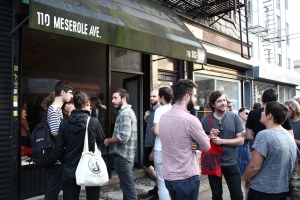 The pavilions at the ninth Shanghai Biennale, which runs Oct. 2, 2012, through March 31, 2013, are themed around different cities, rather than the usual national representation one finds in the pavilions at the Venice Biennale. Cleopatra's, the project space on Meserole Avenue in Greenpoint, will be representing Brooklyn.
Cleopatra's has teamed up with the artist Chris Rice for a presentation called CKTV, which will include commissions by some 50 Brooklyn-based (and "Brooklyn-inspired," according to Cleopatra's Colleen Grennan) artists that have each made karaoke videos that accompany a song of their choice.
Some of the selections include Phil Collins's "In the Air Tonight" by Christie Brown; Seal's "Kiss from a Rose" by Ashleigh Carraway and Luke Boggia (a, uh, personal karaoke favorite); Roy Orbison's "Communication Breakdown" by Ryan Foerster; Queen's "Another One Bites the Dust (Panoramic Mix)" by Riley Hooker; Whitney Houston's "I'm Every Woman" by Annie Pearlman; Chris Isaak's "Wicked Game" by Josh Slater; and Madonna's "Like a Virgin" by Jennifer Sullivan. Mr. Rice himself will make a video for David Bowie's "Cat People (Putting Out the Fire)" and the Misfits' "Where Eagles Dare."
The project began as a program of short videos that Mr. Rice first presented at Santos Party House back in April. Cleopatra's is expanding on the project by installing a site-specific KTV (a Chinese karaoke booth) inside the pavilion to encourage participation.
For all of you that won't be making it to Shanghai, the project will be screened first at Brooklyn's Tandem Bar on Sept. 16.