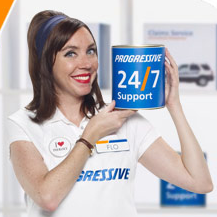 If you're going to only read one Tumblr post today (no, animated GIFs don't count), make it Matt Fisher's: the New York-based comedian posted an equally devastating and amazing (as in, not to be believed) story about Progressive, the auto insurance company, and the lengths they went to not to pay out for his sister's death after she her car was hit by a reckless driver.
Titled "My Sister Paid Progressive Insurance to Defend Her Killer In Court," the story chronicles the increasingly insane behavior of Progressive to deny paying out the full amount after the sister, Katie, was killed by an under-insured driver 2010. While Progressive was due to pay the  difference between Katie's policy and the driver's, instead they fought the case, leading Mr. Fisher's family to realize a small state  loophole:
In Maryland, you may not sue an insurance company when they refuse to fork over your money. Instead, what they had to do was sue the guy who killed my sister, establish his negligence in court, and then leverage that decision to force Progressive to pay the policy.
After doing so, Mr. Fisher realized that the man who ran into his sister's car was being represented by lawyers that were paid for by Progressive, allegedly in an attempt to have the case thrown out, and dismiss the Fishers' claims entirely. As Mr. Fisher claims:
If you are insured by Progressive, and they owe you money, they will defend your killer in court in order to not pay you your policy.
The whole ordeal was a pretty huge "kick in the face," as the author puts it. We have contacted Mr. Fisher to get more details on the story, but have not heard back for comment.