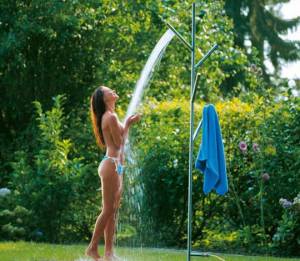 In a New York Times article on outdoor showers and the urban dwellers who love them, one of Corcoran's top brokers confesses to his love of the luxury, modesty be damned.
"Who wouldn't want to shower looking at Central Park?" Robby Browne asks The Times. Indeed! Who wouldn't? Especially when one has just such a shower on the terrace right off one's master bedroom on Central Park West, even if countless windows do look down into the shower through its lattice roof.
Mr. Browne does confess to considerable modesty (for a man who loves outdoor showers, anyway):  "I would feel self-conscious getting into a hot tub on my terrace," he said. "But there is something very liberating about being in the shower."
Other outdoor shower enthusiasts are less concerned about being caught, with or without towel. A 51-year-old contractor, for example, tells The Times that he takes morning showers on the roof deck that he shares with other residents of his Williamsburg building.
Which highlights the primary hurdle to having an outdoor shower in the first place: New Yorkers share everything with their fellow New Yorkers, whether they like it or not. Noise, colds, cooking smells, cigarette smoke, outdoor showers in big apartment buildings, or the views of a private terrace shower. After all, in New York, the primary luxury is space.
kvelsey@observer.com