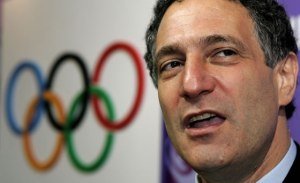 Dan Doctoroff, Olympic dreamer, got to attend an opening ceremony for the games this summer, even if it was not the one he had hoped for. It was from London, where Mr. Doctoroff was taking in the 2012 summer Olympics, that he fired off an email to his friends declaring "feelings of 'what might have been' are curiously absent."
The Times got a hold of this email, where the former deputy mayor for economic development and current head of Bloomberg LP goes on to say that even without them, the Olympic bid was good for New York.
He pointed to the High Line park in Manhattan, which he called "one of New York's premier tourist destinations," as well as "a subsidized middle-income housing project in Queens, ferry service on the East River, new parks and even a new Yankee Stadium, Citi Field and the Barclays Center arena in Brooklyn."

"I don't know whether New York will ever host the Olympics," Mr. Doctoroff wrote, "but I do know that no city has ever benefited so much from trying and that no city embodies the Olympic spirit more. As we always said, New York really is an Olympic Village every day."
The Times notes that both Atlantic Yards and the new Yankees Stadium were already well underway by the time the Olympics bid was announced, but Mr. Doctoroff counters that those projects were spurred on by the bid.
And yet the counter argument could also be made: Look at everything that remains unfinished. While it is true that the Bloomberg administration held onto much of the bid as a blueprint for the development of the city over the past eight years, think of how much further along many of these projects would be had we actually won the games.
Hunters Point South, instead of waiting to break ground on two towers sometime this year would be built, some 6,000 affordable housing units that would have, in the interim, served as the Olympic Village. Ditto Hudson Yards, which would have to be finished, instead of just begun–never mind the plan for a West Side stadium had already been scuttled by the City Council before the International Olympic Committee had made its decision.
A new Javits Center would probably have been undertaken, as well, on top of other projects that have since been forgotten or never would have materialized. And the Barclays Center might just be finished, along with some of those apartment towers. Would Dan Goldstein really have dared to stand up to the Olympics? (Probably, rightly, yes.)
Indeed, it is these hiccups, on the West Side, in Brooklyn and elsewhere, that likely left the New York at the bottom of the IOC's list. Ask any developer, this is not an easy place to build. Mr. Doctoroff questions whether we will ever host an Olympic games. He is probably right to ponder such a question.
Nevermind that things are reportedly very quiet in London this summer, driving off the normal tourists in favor of the Olympic variety, of whom there are apparently far fewer. Meanwhile New York continues to see record numbers of visitors (we know, we tripped over them on the way into the office today). And there is the general fact that Olympics tend to be expensive boondoggles, costing nations and locations more than they are worth. The city might have gotten more money from the state and federal governments to realize the projects that are still undone.
Still, as the mayor, unlike his deputy, expresses disappointment at not hosting the Olympics this summer, despite the losses for a few developers on still unrealized projects, we cannot help but wonder if New Yorkers won the real gold in losing out.