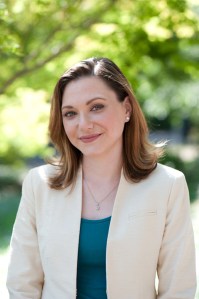 Dara Adams, currently  Community Affairs Director at the Department of Education, is set to leave her job Friday in order to directly pursue a campaign for Councilman Dan Garodnick's East Side seat. Mr. Garodnick declared he will run for New York City Comptroller in 2013, which led Ms. Adams to publicly contemplate a campaign months ago, but she had not officially announced her intentions.
"I still have to register all of my paperwork with the Board of Elections," she told us earlier this afternoon. "But I am leaving to finish my master's and run for City Council."
"It's something I'm really passionate about," she said of her motivations for running, citing education and transportation as top issues. "I really believe we need soembody that cares about the quality of life in the district."
As is the inevitable case with open seats, however, she'll have to defeat several rivals in order to ultimately secure the elected office. Notably, local community board chair Mark Thompson currently seems to have the inside track and has been amassing some establishment support. Jeff Mailman, a legislative aide to Councilwoman Elizabeth Crowley, is also exploring a run.
And the campaign is certainly getting underway even though it is over a year away and the exact boundaries of the district are sure to change with redistricting. For example, Mr. Thompson already announced the support from former Mayor Ed Koch.