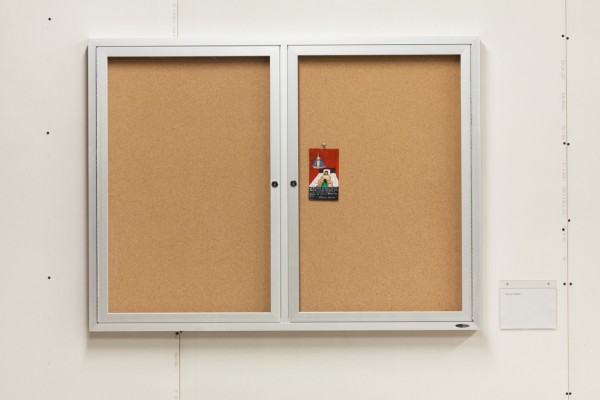 The second show at the new Upper East Side gallery Venus Over Manhattan is filled with bulletin boards. (Disclosure: Venus Over Manhattan is owned by Observer contributor Adam Lindemann.) The West Village alternative space White Columns, which has been home to a bulletin-board exhibition space for a number of years, gave bulletin boards to more than 20 artists and art types and asked them to present something with it.
The conceit could have produced one-liners, but there are quite a few strong pieces. Daniel Turner scrapped down and disfigured his cork board, leaving it empty except for some deep scars. B. Wurtz elegantly hung four socks on a stretch of canvas painted with the words "know thyself." Gavin Brown took photographs of the inside of a refrigerator and presented them inside one board's windows. And Bjarne Melgaard stuffed his with crumpled drawings, mail and at least one hypodermic needle—a bulletin board overflowing with information and harkening back to the creepy murderer-obsessed installation he staged in the bathroom of Luxembourg & Dayan a few months ago.
But our favorite board belongs to Darren Bader, who took perhaps the most resolutely minimal approach, offering a bulletin board in its most pure form. He hung just a single item with a pin, an odd little painting of something not quite safe for work happening in a bedroom. There's a caption in Spanish underneath it. Click the image to see it a bit closer and head to the show before Aug. 24 to see it.
Every Friday, Don't Miss It! looks at a single artwork on view in New York.