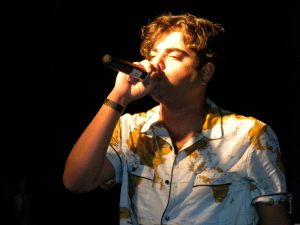 The City Council's redistricting commission is meeting to hear public input in Queens this evening, and before they do, groups are pushing them to avoid splitting their communities.
One of those groups is SEVA, which is specifically calling for a district that keeps the neighborhoods of Richmond Hill and South Ozone Park intact, as they both contain a significant South Asian and Indo-Caribbean population. And to make that call, they've enlisted Himanshu "Heems" Suri, one of the members of the rap group Das Racist, to lobby for their cause.
"This largely immigrant community has been underserved by the city and state for decades," Mr. Suri wrote in an open letter to Council Speaker Christine Quinn. "The signs of institutional neglect are too obvious; the demise of Richmond Hill high school, the decay in transportation infrastructure, the absence of local programs for our senior citizens, and the lack of capital investment by the city and state are just some of the struggles of this community."
Mr. Suri argued this dilapidated set of conditions is because of gerrymandering — the process of contorting the boundaries of legislative seats to serve particular political purposes, such as the protection of incumbents or partisan advantage. Over Twitter, SEVA said these two neighborhoods are currently split into four different Council districts.
"Not even one single district office—at any legislative level—exists in this community," Mr. Suri explained. "It's time twhat this community is united and has a champion for its causes in the City Council."
This is not Mr. Suri's first attempt to influence the redistricting process either. Earlier this year, he released a solo mixtape in conjunction with SEVA in the hopes of getting the community more interested in how political lines were drawn.
Other Asian American advocacy groups are also getting involved. Right before the redistricting hearing begins at Queens Borough Public Library, members of the Asian American Community Coalition on Redistricting and Democracy (ACCORD), an alliance of 14 organizations, will be holding a press conference on the library's steps, undoubtedly to call for additional communities of interest to be kept intact as well.
View his letter below:
[scribd id=103450552 key=key-1mruysz671w3d2ac89ph mode=scroll]