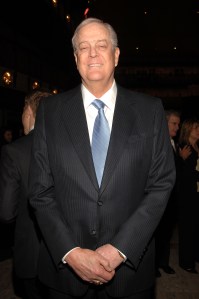 TAMPA, FL — Billionaire Republican megadonor David Koch, who, along with his brother, Charles, is pumping an estimated $400 million into this presidential campaign, talked to Politicker about the controversial level of influence major contributors have on American elections in an interview on the floor of the Republican National Convention a few moments ago.
"We have a free society and people are free to do what they want, you know, as long as they don't hurt others and they obey the law," Mr. Koch said. "So, I believe in free speech and if people want to spend money in politics or something else, it's their right, nothing wrong with that. So, I endorse that."
Mr. Koch is a member of the New York delegation at the RNC. Our last efforts to interview him were not exactly successful. Since he seemed much more talkative this evening, we also asked Mr. Koch what he thought of the excerpts of Mitt Romney's upcoming convention speech that have been distributed by the Romney campaign. Mr. Koch told us he hadn't seen the excerpts, so we showed them to him on our iPhone. After skimming through the text of the speech, Mr. Koch gave us his take on Mr. Romney's remarks.
"I'm sure that his speech will be very warm, very inclusive and very positive," said Mr. Koch. "I think his speech will be very inclusive, very positive and very uplifting. I'm sure that's the way it will be."