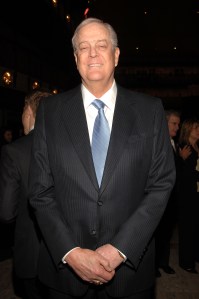 TAMPA, FL — Reclusive Republican megadonor David Koch is currently on the floor at the Republican National Convention along with the rest of the New York delegation. However, he said he was too busy to talk with Politicker when we stopped by his chair to ask him a few questions. 
Mr. Koch and his brother, Charles, have poured an estimated $400 million dollars into this election and were instrumental in funding the rise of the Tea Party. This fundraising activity has led to them becoming something of a political bête noire for many liberals. According to New York Republican Party Chairman Ed Cox, Mr. Koch has also played an important behind-the-scenes role in New York State politics.
We wanted to ask Mr. Koch about the cloud of controversy surrounding his assorted political contributions, so we obtained an RNC floor pass and made our way to his chair. Sadly, all we left with was a badly shot YouTube video and a polite refusal to comment from Mr. Koch.
As we approached Mr. Koch, Congresswoman Marsha Blackburn was on stage making a speech. Mr. Koch was speaking to a woman about something he described as "music to my ears." We were unable to hear any more of their discussion. Once Mr. Koch's conversation was over, we walked up and introduced ourselves. Almost immediately, a pair of women seated next to Mr. Koch tried to shoo us away. We ignored them and tried to begin asking Mr. Koch a few questions.
Since Mr. Koch is known to be press-shy, we thought we'd start with a relatively softball question. We asked whether he'd seen the Will Ferrell movie The Campaign, which features a pair of characters that seem to be a thinly veiled caricature of Mr. Koch and his brother. Though he had been happily chatting away mere second before our arrival, Mr. Koch responded to our question by saying he needed to focus on Ms. Blackburn's speech, which was still in progress.
"I'm going to listen to her first," Mr. Koch said. "I sat next to her at dinner the other day, I want to hear what she says."
Hopefully we'll get another chance to speak with Mr. Koch before the convention is over. For now, dear readers, please enjoy this clip and accept our apologies for committing the cardinal YouTube sin and forgetting to hold the iPhone sideways while we were filming.
[youtube http://www.youtube.com/watch?v=sVbUenvBqg0]