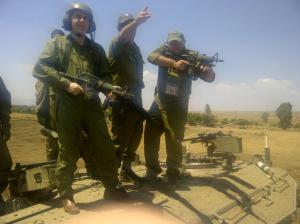 State Senator David Storobin is in Israel, and he's doing more than tasting the falafel.
"Senator David Storobin (R-Brooklyn, on the left) today visited with General Shmulik Olansky (center), a 3-star general in charge of the Golan Heights Armor Division, directly on the Syrian border in a hostile region," read a morning press release accompanying the photo on the left, featuring Mr. Storobin holding a military rifle. "The Senator is on an official state visit approved by the Defense Minister of Israel. To the right is the Senator's Chief of Staff, Paul Gullo."
"Israel shares a border and a region with multiple dangerous countries," Mr. Storobin said in an attached statement, pivoting to use the spelling of "God" popular among some observant Jews. "Thank G-d for the brave men and women in the Israeli armed services that stare down this danger to protect Israel every day."
In addition to that, yesterday, Mr. Storobin's office released information on his meeting with Limor Livnat, the nation's minister of culture, "to discuss Storobin's call for the International Olympic Committee (IOC) to pay tribute to the Israeli athletes killed at the 1972 Games."
He plans to be in the Middle East for the rest of the week, so additional photos are likely to come.
Mr. Storobin, of course, is running for re-election in a heavily reconfigured district after his narrow special election victory earlier this year. The new district contains many Orthodox Jews, many of whom share a special affinity with Israel. The Republican will likely face off against former City Councilman Simcha Felder in the general election, although Mr. Felder will first need to defeat Avraham Tischler in the Democratic primary.
He isn't the only New York pol in Israel this week, however. Councilman Dan Halloran, whose congressional campaign shares a spokesman with Mr. Storobin's, has also released photos of himself in his travels, including praying at the Wailing Wall and posing with army cadets: