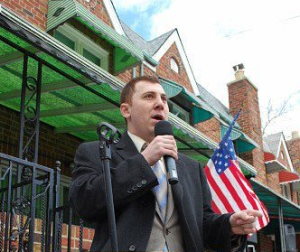 Mayor Michael Bloomberg is moving to outlaw a circumcision ritual often performed by Orthodox Jews, creating an unusual hot-button social issue in its wake. The vast majority of pols have avoided talking about the issue, but you can now add one more name to the list that includes Assemblyman Dov Hikind and potential mayoral candidate Malcolm Smith: State Senator David Storobin.
"Parents approve of metzitzah b'peh because they care about their children and want to pass along Jewish traditions through them," Mr. Storobin said in a press release earlier today. "It is insulting that the Mayor would suggest Jewish parents don't care about their own kids. The Mayor should stop worrying about other people's children and let us raise our families in the manner we choose."
Mr. Storobin, who's running for reelection in a reconfigured district that includes a substantial Orthodox Jewish population, suggested his likely Democratic opponent Simcha Felder is connected with Mr. Bloomberg in this regard.
"My Democratic challenger was the mayor's closest ally when he was on the City Council. Now that the mayor is treading on fundamental Jewish tenets, my opponent is eerily silent," he continued. "I will not be silent when the cultural traditions of my faith are called barbaric."
For his part, Mr. Bloomberg has made it clear that it was simply a health policy decision, with the sucking of blood from the circumcision wound being a potential risk for herpes.
"There are certain practices that doctors say are not safe and we will not permit those practices to the extent that we can stop them," Mr. Bloomberg explained last month when the controversy was at its peak. "You don't have a right to put any child's life in danger, and this clearly does."
And so the debate continues.