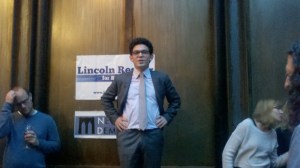 District Leader Lincoln Restler, campaigning for reelection in a little-known, unpaid party position, continues to roll out high-profile endorsements as he fights for his continued role in the Kings County Democratic Party. Adding to that list today is Public Advocate Bill de Blasio, the first citywide official — and first 2013 mayoral contender — to weigh into Mr. Restler's race.
"Lincoln is a person of incredible integrity who fights for our families and our neighborhoods," Mr. de Blasio said in a statement. "He is a smart, hard-working reformer – and I am very proud to endorse him for re-election as State Committeeman."
Of course, today isn't an especially difficult day to get behind Mr. Restler, a fierce critic of the county's Democratic establishment, whose leader, Assemblyman Vito Lopez, has become politically radioactive since Friday's sexual harassment findings. However, a source familiar with Mr. de Blasio's endorsement said it had already been in the works before Friday's revelations.
In endorsing Mr. Restler, Mr. de Blasio finds himself in the company of a number of other notable Brooklyn politicians, including soon-to-be Congressman Hakeem Jeffries, Borough President Marty Markowitz, and a host of elected officials both supportive and opposed to Mr. Lopez's  leadership, at least before the sexual harassment investigation was announced.
How much all of this political support is up in the air, however, and Mr. Restler's fate might very well be determined by how hard Rabbi David Niederman, who heads the larger Satmar sect in Jewish Williamsburg and controls a substantial amount of votes, works for Mr. Restler's electoral opponent, local community board chairman Chris Olechowski.
Fro his part, Mr. Olechowski is strongly backed by Councilman Steve Levin, who represents most of Mr. Restler's district in City Hall.
Voters head to the polls on September 13th.