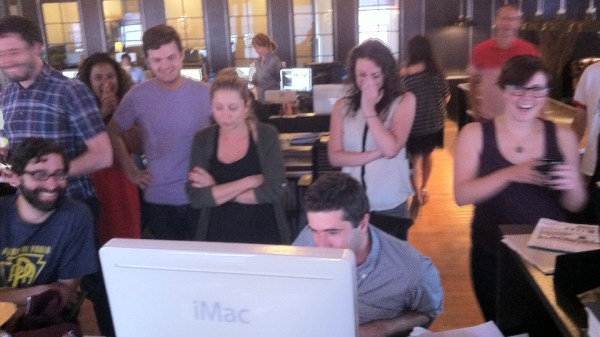 Have we come to the day when Gawker Media's hard up for pictures of an Olympic swimmer's pool noodle (a euphemism for "penis")? Maybe it's just decided to use that money to hire people (like its competition). And speaking of budgets, do we know what really rocked the relationship between Sally Singer and T to its anticlimactic end yesterday? We don't, but does someone else? Do you? Did we put "Gawker Media" in the headline instead of "Deadspin" because more media wonks will read it? We have the answer to approximately 3.4 of those five questions, but will only answer two, right here in your Wednesday Evening Press Clips: 
Website's Hot Pursuit of Penis Photographs Goes Limp: Haven't you heard? In the spirit of the Brett Favre story it once broke, Gawker Media sports blog Deadspin would like to get its hands on Olympic swimmer Ryan Lochte's penis photographs, which are apparently out there. The site put it (i.e. the matter of these penis photographs) to its readers yesterday, asking them to donate the potential funds to buy said pictures from the enterprising individual who apparently has them. The donations amounted to $141, and as such, Deadspin will be declining to purchase said pictures. This is either a important and intelligent step in the great history of checkbook journalism, or a hilarious negotiation tactic meant to nickel-and-dime someone so someone else won't have to dip into the discretionary bonus money pool and use it to get his hands on a penis photograph. The question of whether or not these photographs of a penis leak out notwithstanding, it did produce something very important: a photograph of some Gawker Media staffers who opted to gather around a desk to examine a picture of a famous person's penis. In the photograph above, you can see (from left) Gawker Media photo-illustrator Jim Cooke, Deadspin writer Dom Consentinoand Gizmodo's resident nihilist Sam Biddle, all three of whom are (so far as we know) straight men clearly having a great time. The rest are people we don't recognize, but to be fair, they're either unimpressed, bemused or simply not nearly as captivated as the other three. Also, Deadspin writer John Koblin, who has a far better reason to be there than anyone else (it is his desk, after all).  [Deadspin]  
Grantland(s) Two More: Meanwhile, in news of sports websites whose penis budget has yet to fully take shape, Grantland is adding a few more names to its murderer's row of writers: SI.com's The Point Forward blogger Zach Lowe and Pitchfork, Salon and A.V. Club contributor Steven Hyden are joining up as staff writers. [via @sean_fennessey]
The Sally Tally: WWD's Amy Wicks did a fantastic job breaking the news of Sally Singer's departure from T Magazine yesterday, and today she broke the news down even further after getting the shove-off from both Singer and Times executive editor Jill Abramson. Basically, the ad sales team couldn't close on Singer's vision of T, budget issues, etc., etc., but very, very richly, the money quote:
Times executives just wanted a magazine that could make money without the hassle of getting involved in arguments over art direction.
Don't we all? Whether or not she stepped down or left isn't sussed out, though it sounds like it was a pretty mutual parting either way.  Especially when you take this into account:
Then there were her well-known clashes with Hugo Lindgren, editor of The New York Times Magazine. Singer was said to have angled to take over the magazine as well as T, while Lindgren reportedly wanted fashion to be folded back into the Sunday magazine to boost its ad pages.
In a power struggle, there's always a winner and a loser, even if the stakes aren't the same and both participants aren't actively engaged in it. As for this particular situation, the question now is: what happens to the winner, and the Times's expectations of him? [WWD / MemoPad]
What Does It Take to Get Fired From Yahoo News? Now you know. [Politico]
Further Progress in Editor/Publisher Relations: How does xoJane editor in chief Jane Pratt answer her CEO's question of where she is at the moment? Well, here is a photograph of Jane Pratt, tweeted out by Jane Pratt, of Jane Pratt, in her own words "double fisting." [Instagram via @JanePratt]
What, You Didn't Hear About The Huffington Post's "Oasis" Scandal? So maybe you learned today about how the Huffington Post is offering massages at the Republican National Convention? And how those doing the massaging supposedly weren't getting paid?! Well, for one thing, we learned that they're actually volunteers or what have you, they work on tips, and the Huffington Post made a donation to their cause. For another, Rachel Sklar, erstwhile Huffington Post media writer, stopped by the Oasis. Now you know. [Huffington Post]
Music Writer Finally Reads Other Music Writers: So, which blog post for a certain major-city publication made one music journalist write the words "Related: I don't want to be a music writer anymore." Luke O'Neil  is, in all likelihood, not alone. [Bullett]
NYT Corrects Sentence Regarding Superhuman Speed: 
Because of an editing error, an earlier version of this column misstated the average pace at which women in the University of Exeter study were able to run after 10 weeks of training. Most were able to run for 30 minutes at a pace of about 12 or 13 minutes per mile — not 12 or 13 miles per minute.
Somehow, here, "an editing error" manages to sound euphemistic. [NYT Well]
– – –
That's all we've got today. What do you have? Free, nonprofit subsidized back-rubs? The first piece of non-redundant information in the last 20 years of political conventions? Tips? Story ideas? Beats, rhythm and life? Send 'em here.
fkamer@observer.com | @weareyourfek