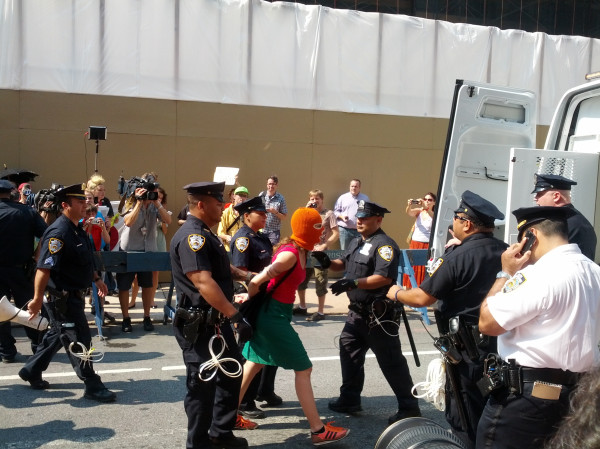 At least three protesters have been arrested this morning at a demonstration at the Russian Consulate in Manhattan, according to an Observer reporter at the scene. Pictures of the arrests, like the one above, quickly appeared on Twitter.  The demonstration was part of a day of protests planned in support of three members of the Russian punk band Pussy Riot, who were found guilty of hooliganism today by a Russian court and sentenced to two years in prison.
At shortly after 10am, NYPD officers issued an order to disperse to 25 demonstrators assembled at 9 East 91st Street, who were warned that they could be arrested for disorderly conduct. Some demonstrators left, but Daphne Carr — who organized the rally — objected, stating, "We're not doing anything wrong. It's okay to take up half the sidewalk." Another protester, Marlena Beridze, told The Observer: "My English is poor but I'm not scared a bit. For what? What did I do wrong?"
Another protestor identified herself as Ann Pettibone, 63, an ESL teacher. "I can't believe Pussy Riot was even arrested," she told The Observer. "I saw the photo of the girls in a box and I started Googling more and more about them."
Despite the arrests, those assembled said they would begin their scheduled march to Times Square at 11:15am.
More on this story as it develops.
Update, 12:05 pm: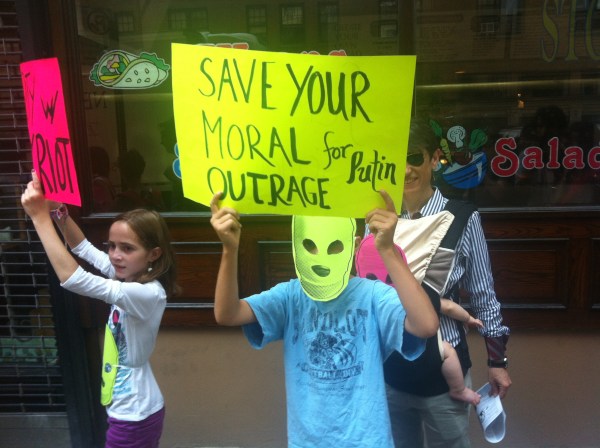 The Observer spoke with prominent Russian American journalist Masha Gessen, who read at last night's solidarity event at the Ace Hotel, as she marched with the protesters on Madison Avenue with her 6-month-old son strapped to her chest and her daughter Yolka, 10, and son Vova, 13, beside her. The kids were unfazed by the scene.
"We've been to many protests in Moscow," said Yolka, who carried a sign reading, "Solidarity with Pussy Riot."
"I brought my clarinet. I was hoping there'd be a lot of people playing music and I could jump in. I'm the choirmaster at my school," said Vova.
We asked Ms. Gessen if she gave pause before bringing her children to the event. "I am not scared at all after seeing protests in Moscow. The last one I took the kids to got very violent, but today should be nothing. I wish more people were here. I don't think this reflects the weight of this protest," Ms. Gessen said.
Update, 12:40 pm:
Ellina Graypel, a protester who played a guitar and sang songs in Russian in front of the consulate, told us she had seen a total of six people arrested. "But even one is too many," she added.
Update, 12:56 pm: 
The protest march has reached Times Square. Protesters chant, "No one should be quiet, free Pussy Riot." There are few cops on foot on the scene, but NYPD vans and cars line the block.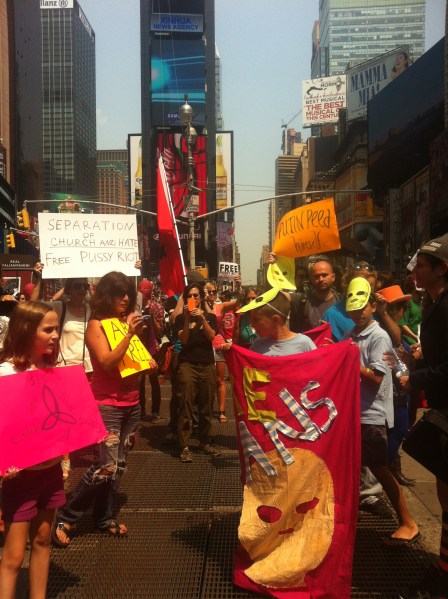 Update, 2:50 pm:
After one final song on the red TKTS steps in Times Square The Observer caught up with Xenia Grubstein, 31, an organizer of the march. Despite the somewhat underwhelming turnout (she blamed the heat), she was proud of the day's actions. "Most of the crowd made it here, so we did fulfill our plan," she said.
Ms. Grubstein expressed her distaste for the court's decision this morning. "We expected it to be negative," she said. "Two years is not as bad as three years, but these are mothers that are taken away from their children."
She told us she's still optimistic that in the coming weeks more will jump on board with the fight that today earned her two blisters and slight dehydration.
"I think it's going to go even more global as celebrities and regular citizens become aware of Pussy Riot," she said. "We're not done yet."
Update, 5:30 pm:
See our slideshow of the day's events
here
. An NYPD spokesperson confirmed to
The Observer
that six people had been arrested today during the protests outside the Russian Consulate.
Correction: An earlier version of this post said that protestor Ann Pettibone was arrested; she was not. The Observer regrets the error.