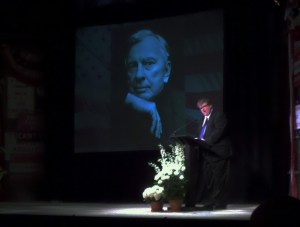 Longtime friends, colleagues and admirers of Gore Vidal gathered in the currently patriotically decorated Gerald Schoenfeld Theatre—where Mr. Vidal's 1960 play The Best Man is playing through September 9—on Thursday afternoon to pay their respects to the recently departed writer. The mood was serious yet not solemn as many who were likely humbled to be counted among Mr. Vidal's contemporaries took the stage to recount memories and share anecdotes from their own experiences with the man.
Reading selections from his own eulogy for Mr. Vidal and praising his friend's great wit, Dick Cavett recounted many of Mr. Vidal's most celebrated one-liners. His favorite, he told the audience: "Success is not enough. One's friends must fail."
"Whenever my friend succeeds, I die a little," was another Vidal aphorism recalled to much laughter, and, reading a line from a message prepared by David Mamet for the memorial, Liz Smith decreed Mr. Vidal "smart enough to see through the self-interest of everyone except himself." Yet none of this seemed to remotely deter the hordes of successful friends who seemed to be endlessly seeking his advice.
"In 2003, when I determined that I would run for president, Gore was my first call," explained Dennis Kucinich. "I said, 'Gore, I'm going to run for president, and I'd like your advice.' Ever mindful of the great death of the American political state, he said, instantly, 'You've got to do something about your hair.'"
Laughing good-naturedly along with the audience, Mr. Kucinich reenacted the conversation. "Gore, what, then, do you suggest?" he inquired. "A guillotine," was Mr. Vidal's response.
Michael Moore also shared some advice Mr. Vidal gave him over lunch in 2003. His 2002 documentary Bowling for Columbine had been nominated for an Oscar, and Mr. Vidal wanted to know what Mr. Moore would say in his speech if he won.
"Finally, I said, 'Listen, Gore, I think all I'm going to do is thank my agent and my stylist and get the hell out of there," Mr. Moore said, drawing predictable laughs from the audience at the mention of a stylist. "He said, 'No, no, you must quote Jefferson. He's never been quoted at the Oscars."
"I thought he was going to give me a bit Jefferson line," Mr. Moore continued. "And he begins, and he doesn't end until four or five minutes later, just reciting one continuous Jefferson quote from memory, and he finished this as if I could remember it. And I just looked at him and said 'If I do win, will you go up and accept it?' He seemed to like that idea."
Susan Sarandon took the stage to pass on "one pearl of parenting wisdom" Mr. Vidal had shared with her shortly after the birth of her first child. "I was struggling to be the best mother, and he told me, 'Darling, it's inevitable that you give your children neuroses, just make sure they're productive ones,'" she recounted.
In her own tribute to Mr. Vidal, Elizabeth Ashley referred to a dictionary, explaining, "As many of you may know, after any conversation with Gore a lot of us have to go to the dictionary." She read aloud the definition of "heretic," and then asked the audience, "Remind you of anyone?"
"I didn't meet Gore until the '70s," she told the audience, explaining that Tennessee Williams dragged her to the Carlyle to meet the man. "Now, Tennessee and I were in no condition to even be in public, let alone at the Carlyle," she informed the crowd, laughing and explaining that when they arrived, Mr. Vidal "jumped to his feet, embraced Tennessee and kissed him full on the mouth, to the somewhat dropped-jaw constellation of patrons at the Carlyle in 1974."
"Tennessee and Gore talked for hours, and I just sat and drank," Ms. Ashley remembered. "When we finally got in a cab, I said to Tennessee, 'I just feel so stupid,' and he said, 'Oh darling, never mind, he's just an old smarty-pants.'"
Ms. Ashley reached down to the ground to pull out a shot glass. "So here's to you, old smarty-pants," she said, raising the glass to the portrait of Mr. Vidal that adorned the stage. "We're gonna miss the hell outta you."