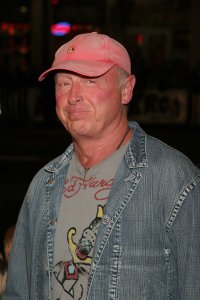 The body of Tony Scott, the man behind the landmark queer cinema masterpiece Top Gun, was dragged from the Los Angeles Harbor Sunday evening in San Pedro, Calif. The director/producer plunged to his death after scaling the 10-foot fence surrounding Vincent Thomas Bridge.
Mr. Scott, the British brother of Alien director Ridley Scott, had worked with his brother to produce many of his sibling's famous sci-fi hits. But he was perhaps best known for his own action movies, including Beverly Hills Cop 2, True Romance, Unstoppable and the remake of The Taking of Pelham 123.
Though the police were sparing with details surrounding the death, The Los Angeles Times reported that Mr. Scott left a suicide note in his office before driving to the bridge and jumping to his death at approximately 12:30 p.m. A passerby saw Mr. Scott's plunge and called 911.
The apparent suicide is baffling. On paper, Mr. Scott's career was on an upswing: he was slated to direct a Top Gun sequel (and in a sad twist of fate, Mr. Scott allegedly committed suicide at approximately the same time that Tom Cruise was confirmed by Naval Air Station officials to be touring their facility in Fallon, Nev., in preparation for the film); COMA, the A&E mini-series that Mr. Scott executive produced with his brother, was slated for a Labor Day release and had released a new trailer earlier that day; and the success of this summer's Alien prequel, Prometheus (which Mr. Scott also EP'd), had led to Ridley hinting to the press that another sequel was soon in the works.
Mr. Scott is survived by his wife, Donna, and twin sons, Frank and Max.