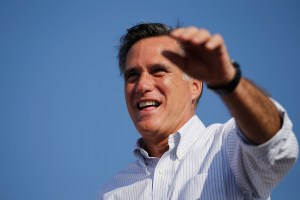 The progressive activist group UnitedNY is sending a group of people who have "worked for various companies owned by Bain Capital" to Tampa to serve as "ambassadors for the 99%" at the Republican National Convention. UnitedNY announced their convention plans today via a press release inviting reporters to watch the Bain workers depart from JFK on Saturday.
"The workers traveling to Tampa have worked for various companies owned by Bain Capital, a private equity firm Mitt Romney founded in 1984. They will participate in protests to draw attention to the harmful effects a "Romney-Ryan" economy would have on the vast majority of Americans," the press release said. 
In addition to employees from the Bain-owned companies Dunkin' Donuts, Burlington Coat Factory and Air Serv Corporation, UnitedNY said their RNC delegation will include other non-Bain affiliated "low-wage workers from throughout the city, representing various industries."
Democrats have tried to use Mr. Romney's private equity career against him throughout this campaign. Workers who claim to have had negative experiences at Bain-owned companies have previously haunted Mr. Romney by popping up in Obama campaign commercials, on conference calls and outside his rallies.