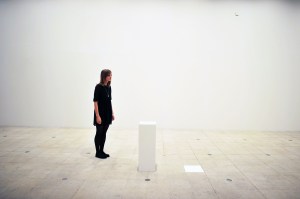 Last week, following Margo Leavin Gallery's announcement that it plans to close after more than 40 years in Los Angeles, we asked readers to respond to Leavin director Wendy Brandow's assertion that the public's interest in gallery exhibitions has declined. She told the Los Angeles Times:
"People are approaching art differently today. They're not seeking out the thoughtful, complete statement that artists make when they create gallery exhibitions. … The exhibitions have been such an important part of what we do, and they are no longer valued as much by the public."
Readers delivered a wide variety of takes on the subject.
Vienna-based artist and dealer Lisa Ruyter agreed with Ms. Brandow. "Absolutely true, I'm dealing with it in Vienna too," she wrote, and others joined her, with Los Angeles-based independent curator Terry Myers declaring that the "statement is accurate." On Facebook, a Chelsea dealer wrote, "Yes. It seems to be true," and, echoing a sentiment expressed by many, added, "Art fairs have replaced the gallery in large part as the place for acquisition decisions."
But plenty disagreed, including New York magazine's senior art critic, Jerry Saltz. "People still love gallery shows," he wrote. "A lot. Artists do. I do. I have not met a person in the art world that dislikes gallery shows." Another New Yorker, writer Paul Laster, concurred: "People do still love to look at art in galleries." He added, in an opinion voiced by some, that "Margo Leavin has definitely lost touch with the times."
As many emphasized, the art market has changed dramatically since Ms. Leavin opened her gallery in 1970. Most notably, art fairs have proliferated, going from just a handful at that time (Art Cologne began in 1967, Art Basel in 1970) to hundreds today. "The Walmartization of the world continues apace—the art world is not immune from it and art fairs are a reflection of that," Chelsea dealer John Cheim wrote. As one anonymous commenter said, "Successful galleries are participating in at least 5 fairs a year. Its a shame that galleries even have to worry about focusing on art fairs as much as they do."
Fairs, it's clear, are increasingly keeping both dealers and collectors busy. As art advisor Todd Levin wrote:
The bulk of gallerists' time is increasingly taken up with creating and protecting their brand, and then inserting that brand into all possible markets, whether it be China, India, Dubai, or Russia—and one of the most expedient ways to do that is through the world wide network of art fairs. In fact, this lack of centralization means that many collectors seemingly go to galleries less and less these days. They just go from art fair to art fair. And art fairs are meant to cater to one niche of people within the art world—the collector.
But even as art fairs become increasingly essential to galleries' financial survival—as sources of new buyers and a large percentage of annual revenues—there seems to be a renewed interest in the "complete statement" historically provided by galleries and their exhibitions. Think of Zwirner and Wirth's 2008 staging of Dan Flavin's 1964 Green Gallery show, Dayan & Luxembourg's 2010 reprisal of Jeff Koons's "Made in Heaven" series, Tate Modern's reconstruction of Keith Haring's Pop Shop for its 2009 "Pop Life" show or the numerous exhibitions about Ferus Gallery.
This focus on exhibitions may be born out of anxiety, a feared sense of loss (think of music followers' persistent worry that digital singles will replace albums), but as one Facebook commenter pointed out, "there are more galleries than ever before….more and more shows," and as Rachel Corbett reports in this week's issue of The Observer, galleries are fighting to build larger and larger spaces, to stage larger and larger exhibitions. Visiting Chelsea on a Saturday can feel like visiting a suburban mall—the crowds are large and the stores are huge (they also have international branches). Of course, most of those people aren't buying, but, many of them artists, they are looking—on the hunt for something to value in an aesthetic, if not a monetary sense. And, considering that artists' markets are often revived following on interest from younger artists, the two things are not, at the end of the day, unrelated. —Andrew Russeth