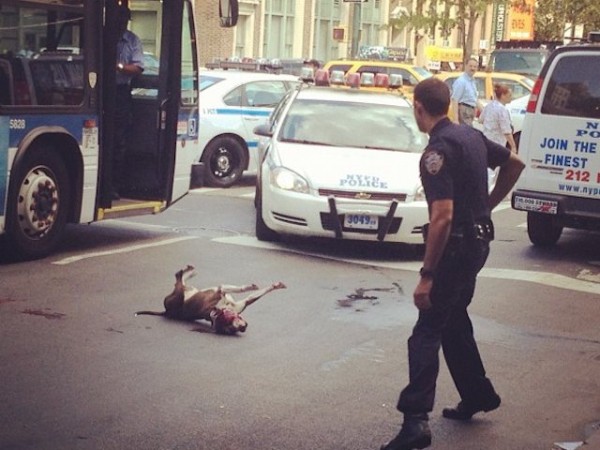 Over the weekend, NYPD officers shot and killed a man in Midtown. Today, they did the same thing to a dog near Union Square.
While we've been on the topic of Eddie Huang, we just received a call from the Baohaus owner about the peculiar gunshot he and his staff just heard outside of his East Village restaurant on 14th Street. UPDATED (see below).
Huang just explained to The Observer by phone:
We heard the gunshot, and we all ducked, and saw people running and screaming. All of the sudden, our chef, Mitch, ran toward the gunshot. He was like Yo, it's that dog in front of KFC—because there's always this dog in front of KFC—and by the time I get there, I can see the dog whipping around and convulsing.

Everyone around was like: Put the dog out of its misery. The cops left this dog wiggling and flaying, blood coming out of its mouth. They shot it in front of a public bus.

Another one of our employees was 10 feet away from it, and he said what happened was: The cops tried to mace the dog, when they tried to mace it, the dog lunged at [the cop]. And this is the same homeless guy we see outside of KFC every day. He never bothers anybody. Today, the guy was passed out. Other people were saying he OD'd or whatever, but he was alive, he was just in a hole [passed out].

What we heard was: The dog was barking at people outside of KFC, and people called the police. Then the dog lunged, and another cop shot it.

You can see in the photo, the trail of blood. The dog traveled. People were really really vocal, harassing the cops to put the dog down, and they wouldn't do it. The whole thing just seemed really, really unnecessary. I don't know what the protocol is for this, I know they have to keep the peace, but it really seemed like an abuse of power, an unnecessary one, and not doing it the right way. They really should've put that dog out of its misery. We've all seen Old Yeller. We all know the right way to do this.

We see this dog outside of KFC every day. It's usually a nice dog. [The dog and its owner] don't bother anyone. Everyone in this restaurant [Baohaus] knows this. If it was a cop from the neighborhood, they would know that guy. He's there every day.
Again, this is the second shooting in broad daylight, in a highly-trafficked pedestrian thoroughfare of Manhattan in less than three days.
UPDATE: Apparently, the dog lived. Which is not, for the record, how Old Yeller ends.
fkamer@observer.com | @weareyourfek