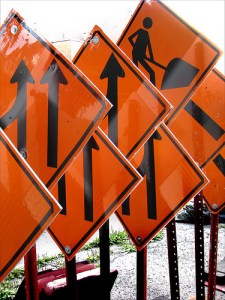 Earmarks! Even when Congress won't spend them, the government will.
U.S. Transportation Secretary Ray LaHood announced today that the Department of Transportation will return $473 million in unspent highway earmarks to the states for projects to improve infrastructure and create jobs.
"These idle earmarks have sat on the shelf as our infrastructure continued to age and our construction workers sat on the sidelines," Mr. LaHood said. "That ends today."
"We can't wait any longer," he insisted. Every state, with the exception of Wyoming, along with Washington, D.C., and Puerto Rico will receive the previously unspent funds immediately. The states must identify the projects they plan to use the funds for by October 1, and obligate them by December 31—"use it or lose it" in the words of the department.
The U.S. DOT will return unspent earmarks from between 2003 and 2006 to each state, and it looks like New York should receive close to $30 million—more than any state except for Texas, California and Alabama. When asked by Mr. LaHood whether the earmarks were unspent because of political intransigence or grandstanding on Capital Hill, the Transportation secretary demurred. This is about creating jobs, not debating politics, he said.
Mr. LaHood emphasized the large degree of flexibility the states will have in determining how to spend the funds. "It's not complicated," he said, explaining that the main criteria the DOT would use when approving projects is that they be "shovel-ready."
This approach has drawn criticism from some infrastructure experts who say that shovel-ready projects are not always the most essential or impactful kind, but when the issue (during a tough election year) is job creation, that appears to be the direction the administration is focused on. Given the deadlines, any jobs are not likely to be created until next year, however.
"We have to sign off on the projects, but we're not going to take forever. We're going to work with states to make sure this money can get spent," he said, confidently predicting that the money would enable the states to create thousands of jobs.