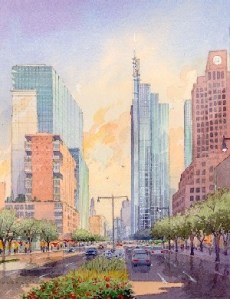 Earlier this week, we profiled Tucker Reed, the recently enthroned director of the Downtown Brooklyn Partnership. He is responsible for the continued redevelopment (some, maybe many, would call it gentrification) of the area, and he has some big plans in the works, like better connectivity and bringing in more tech firms.
It is also up to Mr. Reed to shepherd development in the area, and it looks like he will have his hands full in the coming years. The skyline has been utterly transformed along Flatbush Avenue in recent years as six new apartment towers rose during the last building boom: the Toren, the Brooklyner, the Oro, Avalon Fort Greene, the DKLB, and Forte (to say nothing of the smaller projects littering nearby neighborhoods).
But reading Brownstoner this past week, we were reminded of just how many more of these skyscraping towers are in the works, how much more the neighborhood is bound to change, maybe even a few times over.
The biggest news last Friday was that the Oro 2 is finally getting off the ground. It will climb to 35 stories with 208 apartments. The same day, it was revealed John Catsimitidis was starting work on the second of four buildings along Myrtle Street, near Fort Greene Park, another 15-story job like the one he completed last year just next door.
Add to this 29 Flatbush Avenue, where construction is well under way. There is the building near BAM that Two Trees is working on. City Point phase 2, which will have three towers in total, is set to begin—hence the eviction of the DeKalb Marketplace. There is The Hub, movie mogul Doug Steiner's 52-story, 720-unit tower. It probably won't be underway any time soon, but the site for 85 Flatbush is on the market, so there's another. Are we forgetting anything? If so, leave a message in the comments, and we'll add it, along with any new projects that crop up in the coming months.
Indubitably, this is an area on the rise.