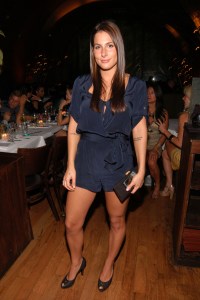 Ashley Dupre, Eliot Spitzer's high-paid call girl-cum-New York Post love advice columnist (hey, we're living in the era of MisAdvised, so we're barely judging) announced to–where else?– Page Six today that she's Jimmy Choo backless flats and pregnant. And no, it's not the former governor's, so let's just get that right out of the way.

According to Ms. Dupre, the baby-daddy is none other than "New Jersey asphalt scion" (nope, sorry, that's not a thing) Thomas "TJ" Earle.
And now for the home-run: Not only is the 27-year-old pregnant, but she's six months along…and she's engaged! (Again, to the King of the Asphalt, and not to anyone who has ever held a seat in Albany.)
As she gushed to her place of employment yesterday, ""On the record, yes, I can confirm I'm almost seven months…I can't tell you when the wedding date is just yet."
If you're claim to fame is capitalizing off of being an escort, one shotgun wedding won't ruin your reputation, we supposed. But who we're really interested in is this Lord of the Cement that she's marrying. After all, it was only four years ago that Mr. Earle was telling his own wife–with whom he has two daughters–that he was "set-up" by Ms. Dupre to make it look like he was having an affair.
What a way to start a solid foundation of trust in your future partner. We just hope that someone has the sense to create an iron-clad prenup…though who it would ultimately be protecting is TBD.