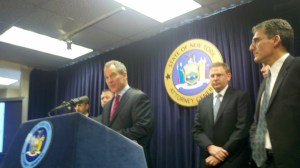 Earlier this afternoon, Attorney General Eric Schneiderman announced the indictment of Queens State Senator Shirley Huntley on corruption charges, the latest in a long stream of Albany scandals.
"Today we are here to announce a superseding indictment against State Senator Shirley Huntley for falsifying business records, conspiracy and tampering with an investigation in a scheme to steal taxpayer money using a sham nonprofit that did not provide any services to the public whatsoever," Mr. Schneiderman began.
"As prosecutor and regulator of charities in this state it is critical for me that people have faith in the integrity of our nonprofits," he added, arguing that aggressive oversight is needed to ensure that credibility remains. "Thousands of nonprofits do excellent work and perform much-needed services."
Ms. Huntley, Mr. Schneiderman said, issued $30,000 in member items to a nonprofit called Parent Workshop. The organization was supposed to be holding seminars to help parents navigate the school system, but Mr. Schneiderman alleged that the funds went to line the pockets of Ms. Huntley's family and friends instead.
"Senator Huntley in fact, the evidence will show, personally led this effort and handwrote a template with a false doctored letter designed to fool an investigation into believing the Parent Workshop had conducted seminars," he said. "In fact, the evidence has shown that no seminars ever took place."
Mr. Schneiderman had a blown up copy of that letter, allegedly written with Ms. Huntley's handwriting, providing instructions like "BACKDATE" to help falsify documentation that the seminars actually occurred.
For her part, Ms. Huntley knew the indictment was coming and hastily scheduled an "emergency press conference" over the weekend to declare her upcoming arrest today, as well as her innocence, of course.
Her lawyer took things a step further and said the timing of Mr. Schneiderman's indictment was "a little suspect," as she faces a competitive reelection fight on September 13th, or at least she used to.  Councilman James Sanders is her primary opponent.
"I think the evidence speaks for itself," Mr. Schneiderman responded when we brought up her lawyer's insinuation. "The original indictment was of December of last year, as a result of that indictment we uncovered this other aspect of the coverup scheme and the timing has to do with the court scheduling of the grand jury. There's no basis for arguing [with] the evidence, so I suppose that's all she has to say."
Senate Minority Leader John Sampson also weighed in today, and announced that Ms. Huntley, a personal ally of his, would lose all of her privileges in Albany.
"With the filings of today's charges, I have removed Senator Huntley from her committee ranking and leadership positions, effective immediately," he said in a statement.
View the indictment below:
[scribd id=104101123 key=key-erhiq5uq5mx4qmk7trb mode=scroll]