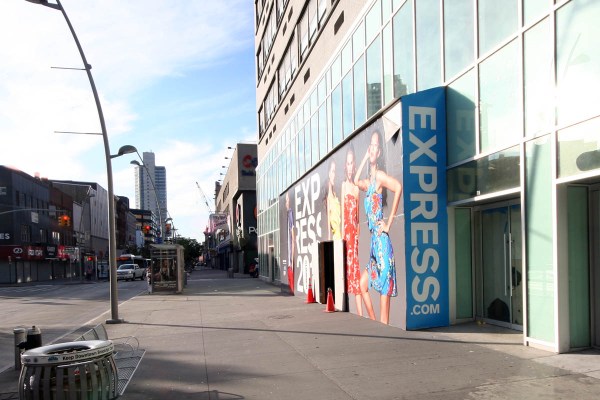 Much has been made of the Fulton Mall's transformation over the past few years (not least in these pages). New shops, new sweets, new people. No one knows this better than Michael Weiss, the CEO of Express. Sure, the career garmento with slicked back white hair and severe glasses likes the location for his newest outlet, set to open this evening with a big block party outside the new store at 490 Fulton Street.
But his love for the strip goes back much farther than that. Mr. Weiss' first job was as a management trainee and associate buyer at the old Abraham & Strauss, one of the four department stores that helped solidify the Fulton Mall as Brooklyn's main shopping destination.
"Except in those days, it wasn't called the Fulton Mall, it was just Fulton Street," Mr. Weiss joked.
Mr. Weiss grew up in Crown Heights and attended Brooklyn Tech High School in nearby Fort Greene. He remembers the area well. "It was just the greatest place to be," he said. "So much activity. So much action. Brooklyn was it."
He spent almost the first decade of his career at A&S, working in different departments, moving up through the ranks. This was in the late 1960s and early '70s, before Brooklyn, along with the rest of the city, began its precipitous decline into bankruptcy and decay.
"It was very different than it is today," Mr. Weiss recalled. "It was very optimistic, to tell you the truth. Brooklyn was quite a place in those years. It was a place of expectation and aspiration. It was solidly middle class, everyone sort of felt like they had a shot if they worked hard. It was very different then."
Mr. Weiss left Abraham & Stauss for a job at Casual Corners, which along with the Limited was just starting to define the specialty (read:non-department) store model of shopping that dominates malls these days. "Little known fact, computers are what made that possible," Mr. Weiss said. "It revolutionized retail. You didn't have to count the stubs, the computer did it for you."
He then spent a few years as a consultant before joining Limited Brands in 1981 to help launch Express. Over the next three decades he worked throughout the companies, including serving as CEO for both Express and Limited Brands. In 2004, he retired before rejoining Express three years later after it was bought by a private equity outfit. "I wasn't very good at retirement, things," he said. "My one piece of advice to you is develop some retirement skills when you're young. Take up golf or bocce. If you don't retirement will be very boring."
Meanwhile, Brooklyn began its rejuvenation, something Mr. Weiss both marvels at and yet always expected. "I knew that street had to be rejuvenated at some point," Mr. Weiss said. "The big question was when could it company afford to get into the place and make it work. You don't want to be too early, and you don't want to be late. I really think now is the time."
Not that the Fulton Mall ever really lost its popularity, even if a little of that luster changed. The demographics were different, but it remained one of the busiest, and most profitable retail strips in the city. There are times when the long-timers might complain about the changes that have come to the strip. Mr. Weiss insists his store will be welcoming to all. "Demographically, we're everywhere in the country," Mr. Weiss said. "Manhattan, Miami, Chicago, Boston, LA, San Francisco. Brooklyn is no different."
The party tonight should offer a mix of new and old, with everything from shaved ice to Roberta's Pizza and, for those who can't manage the impossible reservation's, neighboring Brooklyn Fare. Inside, Express will be unveiling a new interiors concept, designed by Japanese architect Masamichi Katayama of the firm Wonderwall. "We want to elevate the retail experience for national stores, really take it somewhere new," Mr. Weiss said. The concept first installed in the King of Prussia store.
So Mr. Weiss may have the local flavor down, but can he make his clothes work? He admitted to loving the styles of Brooklyn, particularly Williamsburg. "The whole art, bohemian community, has added to the fashion profile, the creative fashion profile of the borough," Mr. Weiss said. "They're not high-fashion dressers, they're creative dressers."
Asked whether he can succeed in such a fashion-conscious environment, he expressed no doubts.
"Some of our most successful stores are in the New York area, on Long Island and in Jersey," Mr. Weiss said. "People want to look good, and that's what we're good at."