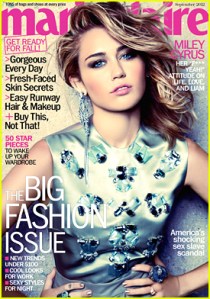 For fashion editors, all roads lead to September: this month's rag mags, engorged with advertisements, represent the triumph of the hypercapitalist ethos, the huge and the loud. No magazine, in September, strives to be the best: all strive to be most, with pages upon pages of ad content buttressing 800-word dispatches from Hollywood or London. Technically speaking, September marks the beginning of the holiday shopping season, as fashion lines launch their latest collections, and while couture shoppers are few in number, couture observers (or Katy Perry fans) can gorge themselves on newly thick magazines that finally have the page counts to show off what they believe to be their best sides.
Here are our picks for the very most of this month's Elle, Lucky, Glamour, InStyle, Harper's Bazaar and Marie Claire. (Vogue, as usual, will arrive fashionably late.)
Best Cover: A purple-hair-era Katy Perry on Elle takes the prize, if only for the very au courant nail art. (She still manages to squeeze her "Jesus" tattoo into the shot, though.) Given that the culture at large spends September shaking sand out of its beach tote, very few of this month's cover stars—Jennifer Lopez, InStyle? Still?—have an imminent project to promote. (And Victoria Beckham, in a bubble bath on Glamour, isn't even wearing clothes.)
Most Nostalgic: Harper's Bazaar, in a cover line, advises readers to "Think Pink!"—a line from Funny Face, the movie based on Diana Vreeland and Richard Avedon's time at Bazaar. (Cover girl Gwen Stefani, you're great, but you're no Audrey Hepburn.) Ms. Vreeland's time at the magazine is elucidated in a piece that uses the word "Vogue" zero times. (Some anti-Vogue rancor is discernible at Glenda Bailey's magazine: Another former Voguette, ousted French editrix Carine Roitfeld, gets a glowing profile in Bazaar.)
Best Editor's Letter, Lede Division: "Naomi Wolf wants you to feel good. Really good," writes Roberta Myers in Elle. (The feminist firebrand is profiled there and has a piece in Bazaar on dating.)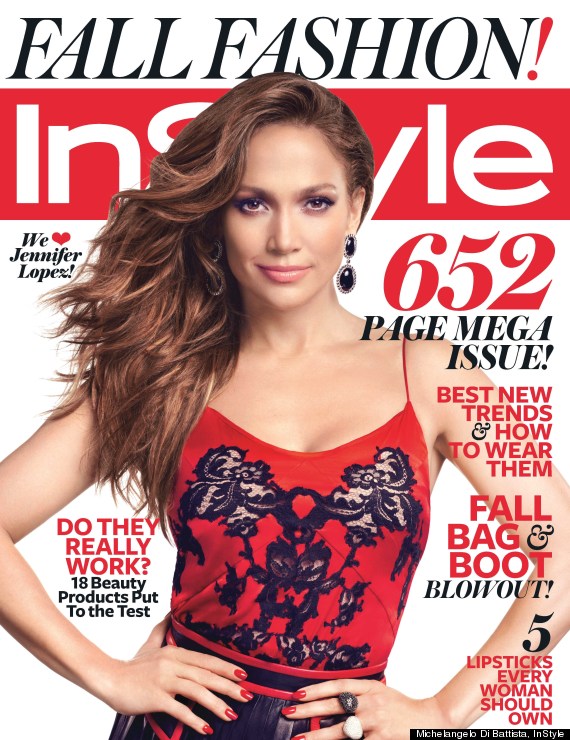 Best Editor's Letter, Unintentional Revelations Division: Joanna Coles describes regretfully turning down her dream job as a journalist covering Parliament in the Marie Claire supplement @Work, which features Chelsea Handler on the cover.
Most Unlikely Suggestion: In her capacity as Glamour guest editor, Ms. Beckham writes that she suggested some future cover subjects from the indie-film universe: "Chloe Moretz, Clémence Poésy, Bella Heathcote …" Maybe if Jessica Simpson falls ill!
Least Fortuitous Timing, Celebrity Division: Kristen Stewart, interviewed pre-cheating-scandal by InStyle. On Cartier's Juste un Clou bracelet: "It reminds me of the person who gave it to me." She wanted, and likely still wants, to go on a "very secluded" Mexican vacation.
Least Fortuitous Timing, Cinema Division: Both Elle and InStyle feature sneak peeks at what would have been this winter's biggest movie, The Great Gatsby. After the magazines went to press, Gatsby was delayed until summer 2013.
Best Logroll: Marie Claire's nine-page package on Project Runway, a show that features the magazine's fashion director Nina Garcia. Before suggesting Runway-inflected trips to Parsons and Burger Joint, the author notes, "Sex and the City isn't the only show that boasts the Big Apple as a main character." Sure isn't!
Best Advertising Opportunity: Justin Bieber's perfume sponsored some of Lucky's stickers (used to point out must-buy items—like Pinterest, but monthly!), as did uplifting toiletry brand Dove. Thanks to the good folks at Unilever, you can label Eva Longoria's shorts "brave," "graceful" or "STRENGTH." [sic.]
Best Homage to Something Else Popular: Glamour informs us: "Hey, it's okay … to own 50 shades of gray … cashmere sweaters." Meanwhile, Elle titles its Katy Perry profile "Girl on Fire," a reference to The Hunger Games, while Miley Cyrus is now getting magazine cover profiles solely in her capacity as Liam Hemsworth's fiancée, also a nod to The Hunger Games. (Jennifer Lawrence clearly wasn't available.)
Most Ubiquitous: Who knew Lana Del Rey was such a trendsetter? She gets a full-page spread, "Let's All Look Like Lana!," in Glamour (looking like Lana means having long hair) and is cited as a nail-care icon in Elle. Meanwhile, Solange Knowles, noted sister of Beyoncé, gets a photo shoot of her house in Elle and a two-page spread on her style evolution in Glamour.
Biggest Vitamin-Related Exclusive: "I wake up at 7 a.m., I shower, shave, eat breakfast, and have a double espresso, a cigarette, vitamins," Marc Jacobs tells Marie Claire. "I wake up, have a double espresso and a cigarette, then I shower," Mr. Jacobs tells Glamour.
Biggest Web-to-Print Leap: Fashion blogger Bryanboy, citing Carly Rae Jepsen in Glamour, a magazine that elsewhere features the "Shit Girls Say" video stars and the "Man Repeller" blogger.
Biggest Print-to-Web Synergy: InStyle has enlisted Katie Couric and Tommy Hilfiger as celebrity "Pinners" for their Pinterest pages; Mr. Hilfiger notes he is inspired by "classic autumnal colors."
Biggest Print-to-Book-to-Print Leap: Elizabeth Wurtzel, for Harper's Bazaar: "I want everyone to try as hard as I do to please be gorgeous, because it's not that hard, girls. Looking great is a matter of feminism."
Most Horrifying, Unsurprising Revelation: Lucky's oral history of Guess reveals that Paris Hilton keeps a blow-up of her early-2000s jeans ad next to her bed.
Most Compelling Subhed: "Guest editor Victoria Beckham's dear friend and go-to hair guy, Ken Paves, is on a mission to help at-risk women. Love that."
Best Use of Profile-Speak: Miley Cyrus, per Marie Claire, is "a 19-year-old firecracker with washboard abs, a smoky laugh, and a filthy mouth." Elsewhere her voice is described as "tangy and redolent of her native Nashville."
Most Disconnected From Readers' Reality: "Everyone I know with taste gets plates from Heath Ceramics," says Jessica de Ruiter, stylist, in Lucky. "They use them at Axe." (It's pronounced "a-shay.")
Biggest Indications Fashion Magazine Readers Aren't In It For the Fashion: When asked, an Elle reader notes her biggest wish is not the Bottega Veneta dress Ms. Perry wears on the cover but "my mother's love and my father's approval"; a Glamour reader poll yields favorite designers including "anything Jennifer Aniston wears" and Old Navy.