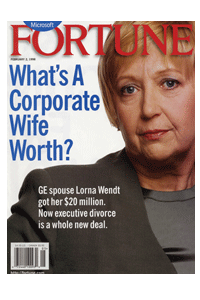 Lorna Wendt, the patron saint of first wives everywhere, has achieved yet another victory in her post-divorce life. Ms. Wendt, who waged a very public battle to get half the money that her CEO husband earned during their 32-year marriage, has purchased an Upper West Side co-op for $1.9 million, city records show.
We can't be sure if the apartment at 61 West 62nd Street will be a pied-a-terre or a primary residence for Ms. Wendt, but it's good to know that after so many years of playing corporate wife, and then corporate ex-wife, in Connecticut, she will no longer be sequestered in the suburbs.
The Wendts made headlines in the 1990s after Gary Wendt, the CEO of General Electric Capital, told his erstwhile high school sweetheart that he wanted a divorce and offered her 10 percent of the $100 million he'd amassed during their marriage.
Ms. Wendt became a darling of divorcées by fighting for half, arguing that the couple had a 50/50 partnership in which she raised their children and ran the house, sacrificing her own career ambitions as her husband climbed the corporate ladder. She ultimately got $20 million and started the now-defunct Equality in Marriage Institute.
The Lincoln Square apartment that Ms. Wendt purchased from Eric and Rachel Gringold wasn't publicly listed, so the details remain a mystery. The Gringolds paid $1.6 million for the property in 2006. But the place bodes well for Ms. Wendt. Besides making Ms. Wendt even more of an inspiration for suburban ex-wives everywhere, it's located in a building called The Harmony. Smooth sailing ahead?
kvelsey@observer.com