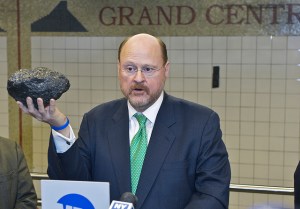 The MTA, nor its allies, will stand idly by as a state judge knocks down the payroll tax providing the transit agency nearly $2 billion a year in fund. Yesterday, they rallied at Grand Central Terminal to insist the tax does not conflict with the state constitution and they will be launching a vigorous appeals.
"For the eight and half million passengers who ride with us every single day, and for everybody in the New York metropolitan area, the transportation mobility tax is a key component of the transportation system that drives the economy of New York City, of Long Island and of our New York suburbs," Mr. Lhota declared. "In fact, it drives the entire economy of the state of New York. Without the service that the MTA provides, New York would choke on its own traffic."
This tariff required employers and self-employed individuals, located within the MTA's 12-county region and who earned more than $50,000 per year, to set aside between 11 and 34 cents for every $100 in payroll costs. Governor Cuomo already signed legislation on December 12, 2011, revising the Mobility Tax structure by exempting or reducing some categories of taxpayers who had been paying the 0.34% rate. However, to compensate for the reduction in funding, the State agreed to make the MTA whole with direct payments.
If Wednesday's court ruling stands, the MTA will lose $1.8 billion dollars of its budget, which is 15 percent of its total annual revenue.
"We've created a concentration of people and jobs that simply cannot exist without the public transportation system that the MTA provides," added Robert D. Yaro, President of Regional Plan Association. "We simply cannot afford to pull the economic legs out from under the MTA."
The State Legislature passed the tax in 2009. Upon taking office in 2010, Nassau County Executive Edward Mangano,  initiated a lawsuit to challenge the MTA's payroll tax. The court ruling sympathized with the residents of Nassau County who were "unfairly burdened" by the tax. Nassau County alone has paid nearly $10 million in MTA Payroll taxes since the law went into effect.
"The bill is unconstitutional because it appropriates public monies for a local purpose," the court ruling found. "And that it is unconstitutional for imposing liability onto political subdivisions for the debt of a public corporation." Furthermore, the MTA must be "self-sustaining" under Public Authorities Law section 1266(3).
Mr. Mangano declared victory for taxpayers and job creators throughout the New York State.
"This is a great victory for every taxpayer and tax relief as the Supreme Court decision buries the job killing payroll tax," Mr. Mangano rejoiced. "This success sends a strong message to job creators that we will not allow residents to be nickeled and dimed to the poor house nor will we allow job killing taxes to go unchallenged. This is a historic victory for tax relief and tax reform."
Four similar lawsuits have been overturned, a fact the MTA hopes will eventually play out in this case.
Denise Richardson, director of the General Contractors Association, was keen to point out that this may be a hollow triumph. "To every elected official cheering this ruling, I have one simple question," Ms. Richardson retorted. "Will your constituents support you when they realise that you put their jobs, their families, their quality of life and their communities at risk?"
Mr. Lhota was confident that the court ruling would be overturned.
"I am optimistic that we will prevail," he simply said. Mr. Mangano declined to comment on whether he thought the MTA would be successful in this endeavor.