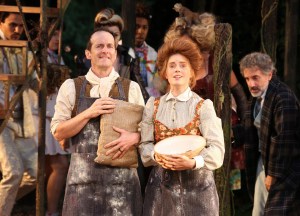 It was the giant that got me.
Into the Woods, which opened last week as the second half of the Public Theater's 50th anniversary season at the Delacorte Theater in Central Park, is Stephen Sondheim and James Lapine's melancholy musical mashup of classic fairy tales, with a second act that reminds us there's no such thing as happily ever after.
Indeed, as the first act ends, all the fairy-tale figures are happy. Cinderella is with her prince; Jack is with both his cow and the riches he found up the beanstalk; Little Red Riding Hood and her grandmother are alive and the wolf is dead; and the baker and his wife, the fairy-tale-like characters Mr. Lapine created to bring his narrative together, finally have their longed-for child. (This first act, a witty, bouncing amalgamation of children's classics, is performed as a complete play in high-school productions.)
But then the second act begins, and the giant arrives. It's Mrs. Giant, technically—she has come down to the kingdom to find out who stole her gold and killed her husband. (No such thing as happily ever after, you see.) Mrs. Giant announces herself first with crashing footfalls and a swath of destruction, and then, in the directors Timothy Sheader and Liam Steel's al fresco production, originally staged at the Regent's Park Open Air Theatre in London, she finally materializes: puppeteers on a scaffolding, wrangling umbrellas, garbage-can lids, enormous hands and a metallic, lipsticked mouth, and suddenly transforming the thick canopy that forest designers John Lee Beatty and Soutra Gilmour have placed across the set into a living, breathing menace. (The puppetry is by Rachael Canning.) The show has by now fully pivoted into its downcast second act, but it's the staging that won me over, the beautiful, clever and totally charming way in which the scenery had become a character.
Of course the setting—those woods—had been a character all along. In Into the Woods, the forest represents the scary, unprotected, grown-up world where bad things can happen. For the Public this summer, celebrating 50 years at the Delacorte, an onstage forest has been a stand-in for Olmsted and Vaux's surrounding arcadia. In Daniel Sullivan's As You Like It, earlier this summer, the ever-popular Mr. Beatty turned the stage, and by extension the park, into a woodsy Arden Forest. Now, finally, winningly, the forest was in the show.
The whole thing is winning, a fun and sprightly if not necessarily ideal production, wrapped around all those trees. While the adult performers are surprisingly lackluster—Denis O'Hare and Amy Adams are barely discernible from the scenery as the baker and his wife, and Donna Murphy's over-the-top grotesquerie as the witch is off-putting, neither chilling nor moving—the kids are more than all right. Gideon Glick as Jack is immensely appealing, kooky and helpless but earnest and eager. Sarah Stiles gives Little Red, wearing a red bike helmet and a sneer, the amusingly sullen ennui of a millennial teenager. Mr. Beatty and Ms. Gilmour's set looks lovely, overgrown, appropriately menacing and surprisingly versatile. And hidden someplace within it is an orchestra, led by the veteran Sondheim interpreter Paul Gemignani, that sounds jaunty and sharp.
An alteration in this production that is bound to upset traditionalists is the directors' decision to make its narrator not an old man but instead a young boy. I like the change: it creates a framing device that grounds the fantastical show in modern reality, a boy who has run away from home to a local forest, where he takes toys out of his backpack and starts inventing stories. But more to the point, I like the boy I saw, the newcomer Noah Radcliffe, who is towheaded and winsome but also surprisingly confident, more than able to hold his own on a busy, crowded stage. (He alternates in the role with Jack Broderick.)
But, at the Delacorte, the point is always less the specifics than the totality. And happily, at least for a night, the totality here is sublime.
In "The Midnight Caller," the last of the three one-act plays by Horton Foote bundled together and presented as Harrison, TX, Hallie Foote portrays Mrs. Crawford, a respectable 1950s woman running a boardinghouse for other respectable women—schoolteachers, legal secretaries—in that small Texas town. It's in many ways the ideal role for her: Ms. Foote is the playwright's daughter and leading interpreter; Harrison, Texas, is the fictional town, not much unlike his own birthplace of Wharton, Texas, in which much of his work is set; and it often seems, especially since Mr. Foote's death in 2009, that she is a serving as a proper but caring landlady, dedicated to the property and warmly overseeing what goes on in it.
At 59E59, where Harrison, TX, opened last night in a Primary Stages production, Ms. Foote must be pleased. This is a warm, respectful, and eye-opening visit to Harrison, the place where we've all spent so much time in her father's imagined world. (This is also a pleasantly quick visit, a brief check-in after the nine one-acts, over three evenings, that filled the sprawling Orphans' Home Cycle at the Signature three seasons ago.) Directed by Pam MacKinnon, whose Clybourne Park won last year's Tony for best play, these three vignettes create an intriguing and compelling, if necessarily nostalgic, look at a distant America where manners were important, feelings were repressed, and things weren't necessarily quite what they seemed—but also weren't so far from it.
A polished cast including Ms. Foote, Jayne Houdyshell and six others play a variety of roles in the three plays. The first, "Blind Date," is set in 1928; it's a low-key and ultimately heartwarming story of two teenagers being fixed up, initially with resentment but ultimately, once they're permitted to relax, a glimmer of hope. "The One-Armed Man" is also set in '28; here, a laborer fired from his job after a workplace injury that left him unable to do his work has returned to demand not his job back but rather his arm. Finally, "The Midnight Caller," in 1952, brings us to Mrs. Crawford's boardinghouse, and an examination of how, even though a changing mix of residents in the house may change those residents' lives forever, it's an open question as to whether things ever really change for them at all.
The answer, inevitably, is that things do change, that everything that happens to you changes you. But never that much in Foote's work: We'll always be back in Harrison.
In Houston, meanwhile, things do change. They just don't in Bullet for Adolf, a new play by Woody Harrelson and his friend Frankie Hyman, apparently because the authors couldn't be bothered with any character or plot development.
What opened last week at New World Stages, with Mr. Harrelson directing, is a weird and barely comprehensible evening of theater. At its base, it's a white-guy/black-guy buddy-film chronicle of the summer the two men met, working together on a construction site. Mr. Harrelson wasn't yet famous, the two ended up as roommates, and a good time was, by all accounts, had—in no small part thanks to their friendly neighborhood pot dealer. It has some good lines, and some funny moments. But it doesn't have anything more than that. (It's also not helped by Mr. Harrelson's direction, which apparently consisted of repeating the command, "Louder!")
There is an interesting, true story about how Mr. Harrelson and Mr. Hyman lost touch, how Mr. Hyman drifted into drug abuse, and how the two reconnected after Mr. Harrelson mentioned his old friend on Jay Leno's couch. But Bullet for Adolf—which gets its name from a grafted-on story about a stolen historic firearm, which was not actually part of Messrs. Harrelson and Hyman's construction summer—isn't concerned with that. It's just goofing off.
And "Hey, remember that crazy summer before college?" is never fun to outsiders. Especially when it's being yelled at them, for two and a half hours.
editorial@observer.com