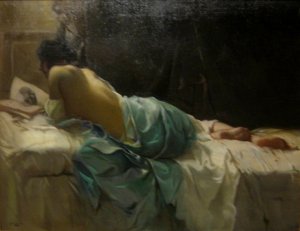 Who says smart girls can't be sexy? Well, no one, really (at least not in public). Especially if they combine their love of literature with, say, photos of themselves in a bikini. That's the theme of TheGloss.com's new photo contest, which asks readers to "Send In Your Sexy Reading Photos, Win Books."
A better title may have been "Whose wave of feminism is this, anyway?"

The facts: TheGloss' EIC, Jennifer Wright, went to the beach recently. Someone photographed her reading Roald Dahl's Someone Like You while sunbathing in a red bikini. It is a very sexy picture. Which gave Ms. Wright, a generally private person when it comes to Internet exhibitionism, an idea:
I like it because in it I am 1) wearing a bikini and 2) reading. There aren't enough pictures like that. But there should be. There's nothing more attractive than people who can chat about books with you. Reading + Sexy = it's not just for librarians anymore.
So now TheGloss is holding a contest: you send them a photo where you are a) sexy and b) reading. The most sexy photo wins a pile of books…though Ms. Wright was quick to clarify to The Observer that "'sexy' obviously means different things to different people" and that the judging would lean towards "the most creative sexy picture."
Cringe-factor: Eh? Meh? Our knee-jerk reaction was to get our knickers in a twist, put on our frumpiest jacket, and picket with those extra signs we have left over from the last "Our bodies, our choice!" protest. This kind of contest, on the surface, seems to prove the exact opposite of "Reading is inherently sexy" by hedging the concept with a  "If you look attractive doing it" addendum. Which isn't even a new idea, seeing as their is a whole soft-porn web series devoted to alt-porn stars reading erotica while being stimulated by an unseen vibrator. (Seriously, check out Hysterical Literature. It's even SFW, as long as you have your headphones on.)
The problem being that this "smart sexy" concept still works within the rubric of the male gaze–Yeah, who took Gender Studies 101?? Snap!–and places way more emphasis on 'sexy' than it does on 'reading', even while trying to say (we think) that sexiness is subjective.
"Now, "sexy" is constituted of whatever that means to you. If it means riding a lawnmower in a Teletubby suit, well, I like that TheGloss accepts all kinds. I'd prefer not to feature nudity unless it 's really creatively done, in which case, okay, go for it. Reading is defined as 'you should probably have a book in front of you in the picture. Or a kindle. Something.'
Which again…d'uh. Some people find Hentai tentacle porn sexy, that doesn't make it liberating, and it doesn't make the guy (or girl!) jacking off to a rapey monster impregnating a Japanese schoolgirl any different from regular porn connoisseurs. It's just different strokes for different folks. And come on…let's not pretend we haven't fetishized librarians…that's why God created SuicideGirls. And what's with the prudish limitations discouraging nudity? You're already pushing the boundaries, now is not the time to raise a "sexy versus slutty" debate.

On the other hand: No one is claiming that this contest was held in honor of Naomi Wolf's birthday or anything. And if taking photos of yourself in a latex catsuit while reading The Fountainhead gets you off, more power to you. Why shouldn't women feel empowered by both their bodies and reading comprehension levels?
Verdict: As we doubt that TheGloss' readership is predominantly men, this contest is a harmless, if misguided attempt to promote intellectual sexuality. Though let's be honest: pretending those extra pageviews resulting from such a salacious post is just the cherry on the top of the female empowerment-flavored sundae is pointless…those hits are the ice-cream, chewy fudge brownie, and drizzled caramel sauce endgame of this contest.