The Ferrari snob accused of turning a NYPD flatfoot into a literal one with a $260,000 car sustained a concussion after cops pulled him out of the car and threw him to the street, his attorney Mark Heller told The Observer.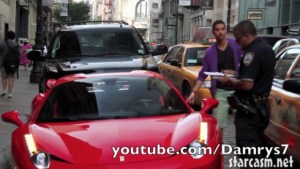 Julien Chabbott, the co-founder of the now-defunct smartphone app Line Snob, was arrested and charged with felony assault after he allegedly drove over Police Officer Felix Recio's foot early Saturday evening.
"He had a concussion and some other injuries," said Mr. Heller, who claimed Mr. Chabbott had to be taken to Bellevue Hospital for treatment after his arrest.
A person close to the investigation told The Observer that this was the first they had heard about Mr. Chabbott's injuries. (UPDATE 3:04pm): That person added that the defense attorney did mention the concussion during the arraignment).
Video of the confrontation, which has become a viral hit, details the unfortunate (and once again, alleged) meeting between an über-expensive Italian sports car and a municipal employee's foot.
[youtube=http://www.youtube.com/watch?v=3lKwkn6JT74&w=560&h=315]
Mr. Chabbott had been inside the Mercer Hotel Saturday with reality TV girlfriend Stephanie Pratt when he objected to Officer Recio writing him a summons for parking in a no-standing zone, not having a registration sticker and not having an inspection sticker on his Ferrari 458, cops and prosecutors said.
Mr. Chabbott then allegedly disregarded Officer Recio's orders to stay out of the Ferrari, got in the driver's seat and moved the car over the cop's foot, cops and prosecutors claim. Officer Recio and his partner then pulled Chabbott out of the car and tossed him to the street, an altercation that may have injured the 28-year-old entrepreneur, his attorney said.
Mr. Chabbott was released on $1,000 bail Sunday after he pleaded not guilty to second-degree felony assault, which carries a seven-year jail sentence, and obstructing governmental administration.
Mr. Heller, who is also the attorney for "Gatsbaby" (and accused drunk driver) Tabber Benedict, told The Observer that Mr. Chabbott did not run over Officer Recio's foot. To have done so is "rather incredulous, considering the cost of a parking ticket could never justify the motivation to run over a policeman's foot," he added.
As for the video shot by bystander Damian Mory, Mr. Heller believes it highlights Officer Recio and partner's "extremely inappropriate course of conduct."
"This may lead to an investigation of the conduct of the police officers, and I don't think any law-abiding citizen who viewed that tape would be happy to see how New York's Finest conducted themselves," said Mr. Heller.
He would not confirm if the Ferrari was registered in Mr. Chabbott's name. Neither the NYPD nor the Manhattan District Attorney's office could confirm to whom the Ferrari was registered.
Meanwhile, Mr. Chabbott believes that Officer Recio is faking his injury and was issuing a ticket just to meet a ticket quota, according to TMZ. If true, it may be the first instance in which an illegally-parked Ferrari in SoHo was involved in last year's NYPD Bronx-ticket fixing scandal (and yes, we say so facetiously).
Mr. Chabbott was reportedly the co-founder of Line Snob, a social network app that monitored lines and provided its users wait times. The app is no longer available on iTunes. The last tweet on Line Snob's Twitter account was on June 24, 2010.
Eric Adler, another c0-founder of Line Snob, is now running Puesto Mexican Street Food, a restaurant in La Jolla, Calif. He did not respond to repeated requests for comment.
Burg Upender, the CEO of Mobomo, which helped build the Line Snob app, said he was "not interested in commenting" when reached by phone.
drosen@observer.com