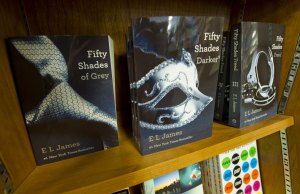 And for today's yikes news … E.L. James's Fifty Shades of Grey has surpassed Harry Potter and The Da Vinci Code series to become the best-selling book of all time this week in Britain.

According to reports, 5.3 million copies of Fifty Shades have been sold in the U.K. in either print or e-book form since its release. The book's sequels (oh yeah, did you forget that there were sequels to the Twilight-based erotica?), Fifty Shades Darker and Fifty Shades Freed, have sold 3.6 million and 3.2 million respectively.
For the past 16 weeks, Fifty Shades of Grey has remained at the top of best-seller lists, both at home and abroad. It has been credited for the upswing in everything from book sales to condoms to vagina ball explosions. Hell, you'd think the books' original series, Twilight, would have been credited for the rise in commerce, but we guess the old adage is true: sex sells. Even better than vampires, apparently.