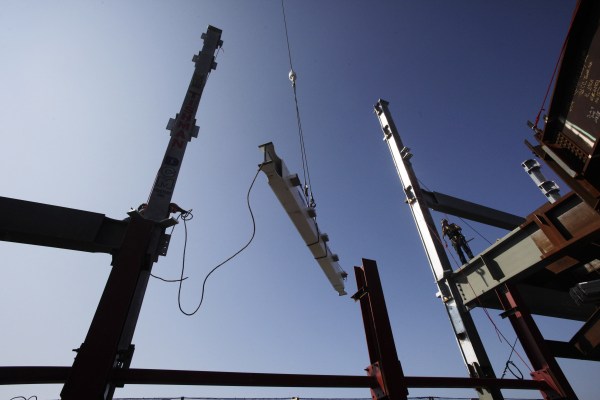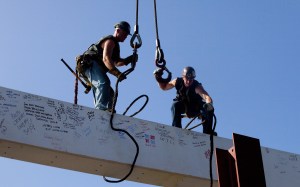 Correction 8/3: The Port Authority has not topped out the tower but simply installed the presidential column. The installation of the final steel beam, and thus the topping out of the tower, is yet to come.
A month and a half ago, President Obama arrived at ground zero to much fanfare to inspect the towers rising there and maybe even finish them off.
There was some talk that (maybe) the hemisphere's biggest building was set to top out, but that happened only this morning at a brief ceremony. Construction workers and police officers assembled to sign the final column of 1 World Trade Center before it was hauled more than 100 stories into place, according to a pool report.
"It feels really good to be a part of it," iron worker James Brady told the Associated Press "I feel very proud to be here. I feel very lucky to be here." He was among the crew that hoisted the final beam into place.
Not that this was a race or anything, but neighboring tower 4 World Trade Center topped out at the end of June, 39 days before 1 World Trade Center. Both buildings are set to open by the end of next year, though both are only about half full in terms of tenancy. Conde Nast and the GSA will anchor 1 World Trade Center while the Port Authority is the main tenant at 4 World Trade.