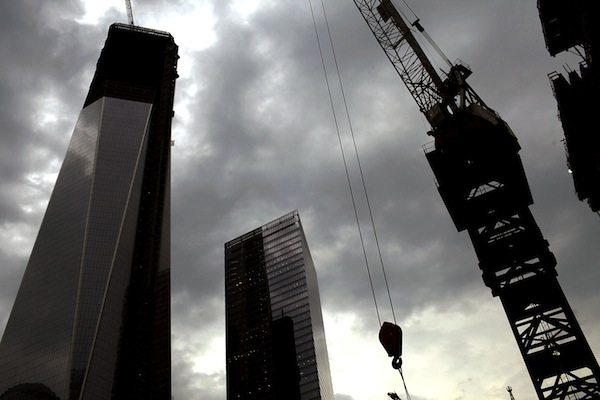 After about 45 minutes this morning, dozens of firefighters got a blaze under control on the 88th floor of 1 World Trade Center. The Fire Department did not yet know the cause of the fire, which only hit the one floor. There were no injuries reported, according to an FDNY spokesman.
The fire was reported a little before 8 a.m., and 84 firefighters from 26 units responded. That is not an unusual number for a high-rise blaze, according to the spokesman.
This was the second fire in the iconic building since June, when another small fire started one floor up, on the 89th. That incident also came early in the morning, when some wooden decking caught fire. The following month, another small fire started in the upper reaches of neighboring 4 World Trade Center.
The Port Authority has recently been cracking down on its construction workers, some of whom are known to go out and drink in local bars during their lunch break. They have also stepped up reminders about smoking onsite, which has been a big concern ever since 130 Liberty Street caught fire in 2008, killing two firefighters.
Update 8:52: A Port Authority spokesman, Steve Coleman, said there was no fire at 1 World Trade Center. A Fire Department spokesman confirms that it may simply have been "a welding incident."
"I'm not going to speculate like FDNY," Mr. Coleman said. "They searched the building and found no evidence of any fire."
Update 10:26: All clear. @WTCProgress, the Port Authority's official World Trade Center social media presence, just said "After a thorough search of #OneWTC & as reported by NYC OEM "FDNY has concluded their search with negative results (no fire found)." The account followed that up with this good bit of news: "No stoppage of work, no evacuation of the building, & no reported injuries. Work continues to move forward at #OneWTC & site."
An FDNY spokesman declined to say there had been no fire, saying their investigation is still ongoing. They expect to release their findings around noon.
Update: 12:55: "There was no false alarm," FDNY spokesman Jim Long said. "A lot of people have been saying that, but we received a call at 7:45 of smoke coming off the World Trade Center, our guys responded, and that's what they saw. So we investigated. After a full investigation, we determined it was caused by some welding going on on the 88th floor."