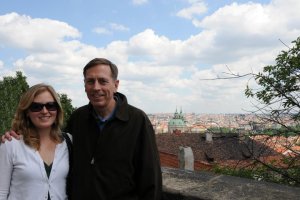 David Petraeus, the CIA Director and former commanding general of the coalition forces in Iraq, is the latest public official to be identified as a finalist in Mitt Romney's veepstakes by the influential conservative news site The Drudge Report. In an effort to get to know a more personal side of Mr. Petraeus, we perused the websites written by his daughter, Anne, a prolific lifestyle blogger who is studying to become a registered dietician and sells her own line of "Will Run For Bacon" T-shirts.
His daughter's postings on her various blogs over the years reveal the former general is active on both land and sea, comfortable hanging out with celebrities and not a fan of "hippie" cuisine. Here are the five most interesting facts we learned about Mr. Petraeus from reading his daughter's sites:
1) Mr. Petraeus is very accommodating and doesn't mind when his foodie daughter takes pictures of the dishes they eat while dining out. However, when she cooks at for him at home he has one ground rule—"no hippie food."

2) During this summer, Mr. Petraeus developed a new hobby, paddleboarding on the Potomac. He apparently liked it so much the first time he tried it back in June that he got back on board two weeks later. Here is a picture of Mr. Petraeus riding his paddle board.

3) Mr. Petraeus is able to run five miles in about forty minutes.

4) He keeps in shape using an Army exercise called the "eagle ab."

5) Mr. Petraeus and his wife became "BFF" with Heroes and Gilmore Girls actor Milo Ventimiglia while sitting in the NFL Commissioner's box during the 2009 Super Bowl, where the former general was 0n hand to perform the coin toss.
Matt Drudge, the namesake and proprietor of The Drudge Report reportedly has a close relationship with Mr. Romney's campaign manager, Matt Rhoades. The Drudge Report has previously flagged former Secretary of State Condoleezza Rice and Minnesota Gov. Tim Pawlenty as veepstakes frontrunners.
Mr. Petraeus has previously been painstakingly clear that he doesn't have his eye on the White House, but the exclusive Drudge Report item on Mr. Petraeus' vice presidential prospects claimed "President Obama whispered to a top fundraiser this week that he believes GOP presidential hopeful Mitt Romney wants to name Gen. David Petraeus to the VP slot!"
According to the Drudge Report, Mr. Petraeus "could be a shrewd Romney choice" because he has been praised by the Obama administration and the Senate confirmed his selection as CIA Director by a vote of 94-0. However, The Drudge Report also noted the Obama campaign "stands prepared" to link Mr. Petraeus to "Bush Wars."