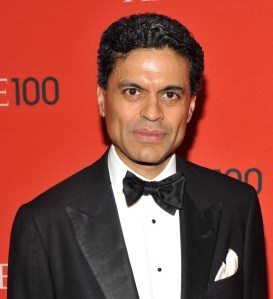 Time editor-at-large Fareed Zakaria has lately been the subject of much chatter among colleagues past and present—some of it rather unpleasant for the marquee pundit. And while Time and CNN have done a review of his work and are satisfied that no further issues remain, it doesn't look like his problems are over just yet: One of his former colleagues at Newsweek has asserted to Off the Record that he ghostwrote a piece that ran under Mr. Zakaria's byline.
After being accused of plagarizing The New Yorker's Jill Lepore recently, Mr. Zakaria explained himself to the New York Times's Christine Haughney: he claimed to have conflated his notes from Ms. Lepore's piece—apparently copying a passage from the article into longhand—mistaking her thought patterns for his own. Ms. Haughney added, in a veiled aside, that Mr. Zakaria, formerly the editor of Newsweek International, "said he never had an assistant write a column in 25 years and that he began using a research assistant for his column only in the last year." Maybe so.
However, Jerry Adler, who took a buyout from Newsweek but remained on as a contract science writer says that in 2010 he was commissioned to write an introductory letter, going out under Mr. Zakaria's byline, for a stand-alone commemorative issue on the environment pegged to the Intergovernmental Panel on Climate Change report. Knowing full well that the piece would go out under Mr. Zakaria's name, the two-time National Magazine Award finalist says, he wrote the five-paragraph piece, never discussing it with the putative author. "He made some changes, maybe. But he didn't say, 'Do this and don't tell anyone.' It came to me through channels."
(Disclosure: this reporter was a college intern at Time in 2007 and at Newsweek in 2009, but did not work or interact in any capacity with Mr. Zakaria in either case.)
For his part, Mr. Zakaria declined through representatives to speak to Off the Record. Nisid Hajari, an editor who worked closely with Mr. Zakaria at Newsweek, indicated: "I edited literally hundreds of pieces by Fareed, big and small, over the years, and they were almost entirely researched and always written by him," though he didn't recall this specific case. "Not unusual, if you ask my wife," he added parenthetically.
Writers' referring to others' research, and, often, language, through written files prepared by reporters is a longstanding practice at weekly newsmagazines, though editors familiar with the practice indicate that a reporting or co-writing byline is de rigueur. Noting that today's editors write their own letters, former Time managing editor Jim Kelly remembered, "My first job at Time magazine [in the 1970s] was, in fact, writing the publisher's letter. The publisher signed it, Jack Myers, he couldn't have been more pleasant. I went to meet him the first week, and he said 'No, just make me sound good, kid.' The publisher never wrote the letter."
"It's possible that he filed to Fareed in the classic newsmagazine team fashion," said Tony Emerson, former managing editor of Newsweek International. "In team journalism there's a lot of debates over who deserves the byline. It sounds to me like he could have pitched in with Fareed and is angry he wasn't credited for his contributions."
"This isn't an issue of plagiarism, per se," said Mr. Emerson. "This is an issue of—whose byline was it?"
And, as in the past, the letter to the readers existed to assuage the publishing side. "The business side had apparently promised [advertisers] that Fareed would write the introduction. They probably did this without asking Fareed–he either wasn't available or he was too busy. I was asked to do it, which I did," said Mr. Adler. "It appeared under his byline."
The entire project, indeed, was a sop to the sort of advertisers and newsstand buyers whose brand value Mr. Zakaria's name is meant to entice. "That project had just about zero journalistic value. It was an advertising vehicle, a revenue-producing deal made by the business side at a time when Newsweek was desperately trying to keep its head above water," said Fred Guterl, formerly of Newsweek and now at Scientific American, in an email. Mr. Guterl said he did not recall anyone writing the piece "except Fareed himself," but noted that it was possible that Mr. Adler had prepared research and written a file for Mr. Zakaria, a claim Mr. Adler denies.
Mr. Adler, whom colleagues describe as well-respected at the magazine, has no ill will toward the highly leveraged Mr. Zakaria. "This was something that didn't originate with him. Newsweek was trying to capitalize on Fareed's brand. It wasn't going to advance his career at all."