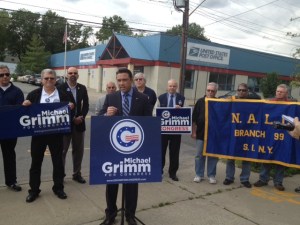 Earlier today, the influential AFL-CIO rolled out its endorsements of Democratic congressional candidates across the state, only skipping three districts out of twenty seven. Two of those districts feature safe Democratic and Republican incumbents, Gregory Meeks and Peter King respectively, but one of them stands out: Staten Island Rep. Michael Grimm, a top target of the Democratic Congressional Campaign Committee.
"I think there's support for both candidates," Ryan Delgado, AFL-CIO's public policy director, told us, explaining that they have "to be respectful of both candidates" when their membership is split.
Indeed, the umbrella organization includes some conservative-leaning blue collar chapters that went Mr. Grimm's way. Among his announced labor support, which can be viewed in full below, are ten members of the AFL-CIO, including the International Union of Painters and Allied Trades District Council 15, Marine Engineers Beneficial Association, and Seafarers International Union of North America. Thursday morning, he's holding a press conference to announce the support of Plumbers Union Local No.1.
For his part, Mr. Murphy's campaign insisted that they're doing just fine with the labor community. A source in the campaign cited some of his top union backers, including SEIU 1199, United Food and Commercial Workers, SEIU 32BJ and NY Metro Area Postal Workers.
"We are proud of the hundreds of thousands of union members who are supporting Mark Murphy and his campaign," Nathan Smith, Mr. Murphy's spokesman, said in a statement in response to the AFL-CIO staying neutral. "Working people are responding to our message of fighting for the middle class, protecting medicare, and ending the gridlock in Washington DC. We will be rolling out more endorsements in the coming days from major unions. There is a tremendous and growing support for Murphy within organized labor. "
Nevertheless, 24 Democratic congressional candidates were blessed with the support of AFL-CIO today, and the union vowed to work to elect them.
"What happens in Washington DC has a real and tangible impact on the lives and economic wellbeing of working men and women throughout the state," the group's president Mario Cilento said in the statement. "Union members cannot afford to sit idly on the sidelines. The Labor Movement will engage our members at the local level to make sure hard working New Yorkers, not corporate special interests, decide who represents us in Washington."
Mr. Grimm's union list:
New York City Bldg. & Construction Trades Council
International Union of Painters and Allied Trades (IUPAT)
International Union of Operating Engineers (IUOE)
United Association of Journeymen and Apprentices of the Plumbing and Pipe Fitting Industry of the United States and Canada (UA)
Laborers' International Union of North America
Sheet Metal Workers International Association (SMWIA)
United Union of Roofers, Waterproofers and Allied Workers (Roofers and Waterproofers)
Marine Engineers Beneficial Assn.
Masters, Mates & Pilots Union
Seafarers International Union of North America (SIU)
United Transportation Union (UTU)
International Brotherhood of Boilermakers, Iron Shipbuilders, Blacksmiths, Forgers and Helpers (IBB)
National Rural Letter Carriers Assn.
National Postal Mail Handlers Union
National Assn. of Letter Carriers
Uniformed Fire Officers Association