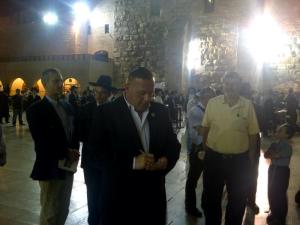 Earlier this month, Assemblywoman Grace Meng, the Democratic candidate for New York's 6th Congressional District, penned an op-ed in the Jewish Week outlining agreements and disagreements with President Barack Obama on his policies towards Israel, while simultaneously taking some shots at her Republican opponent, Councilman Dan Halloran, for his support for the non-interventionist Ron Paul's presidential campaign.
Mr. Halloran's campaign, naturally, had some choice words for that, declaring, "There are serious issues at stake here that a ghostwritten, waffling op-ed does not address."
But the back-and-forth on the Holy Land didn't stop there. Not even close.
Mr. Halloran, who spent part of last week visiting religious and government leaders in Israel, released a long statement reflecting on his journey, castigating the foreign policy views of the Democratic Party and announcing the endorsements of several Israeli politicians. Ms. Meng's campaign was less than impressed, however, and fired back with a statement of their own, reiterating Mr. Halloran's support for Mr. Paul and suggesting "he's all of a sudden discovered Israel" thanks to his political campaign in a fairly Jewish congressional district.
Well, tonight the feud on the topic continues as the Jewish Week published Mr. Halloran's own op-ed sharply condemning Mr. Obama and the Democratic Party he belongs to for being insufficiently supportive of America's top Middle East ally.
"It isn't so bad that my opponent is merely spouting off Democratic political talking points on Israel, the Middle East and national security," he wrote. "But what do her memorized one-liners really mean? Before she was tabbed the nominee by the Queens Democratic Party in the spring, she'd barely thought about Israel for a day in her life. These days, her discussions on Israel are sickeningly empty talking points, written by her consultants and recited by her without understanding the rich and complicated history of Israel and Judaism."
And, without mentioning Mr. Paul by name, he addresses Ms. Meng's key argument head-on.
"I'm running against Assemblywoman Grace Meng, who recently attacked me in this paper for my friendship with one of the prior Republican nominees for president, despite her knowing my longstanding and vocal opposition to his foreign policy positions," Mr. Halloran explained. "Assemblywoman Meng knows full well that I have been a vociferous advocate for Israel and the joint national security interests we share, yet she claimed that someone else's positions disqualified me for a seat in Congress. In the same breath, Ms. Meng then went on to distance herself from her own party's president and his actual Israel policies and assert it not only doesn't disqualify her — it makes her the better candidate. Now that's chutzpah."
We've reached out to Ms. Meng's campaign. If history is any indication, they will surely have a response.
Update: Indeed, Ms. Meng's spokesman Austin Finan doesn't think Mr. Halloran can walk away from Mr Paul so easily:
"Dan Halloran is a political opportunist of the highest order who only made time to visit Israel when it was expedient and convenient for him to do so. While Dan Halloran and the Republican Party spend their trips to Israel skinny-dipping in the Sea of Galilee and botching highly publicized visits with gaffe after gaffe, Democrats like Grace Meng have put forth a sound plan for continuing strong U.S.-Israeli relations and, in turn, received the support of some of the foremost authorities on this critical foreign affairs issue, including former Mayor Ed Koch. Dan Halloran can try to walk back his support for Congressman Ron Paul all he wants, but he's only spinning his wheels."