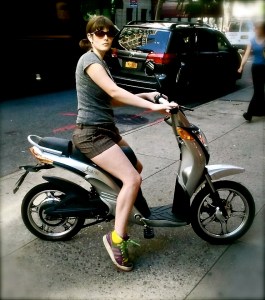 For the past two months, The New York Observer had been deluged with emails asking if we'd like to test drive one of those new electric bicycles. Finally, we relented.
We were introduced to Jay, the co-founder of Jetson ("The COOL Eco-Friendly Electric Bike!" as the company's website puts it), who asked us to withhold his last name. That seemed odd, but we complied. How often do you get to ride an e-bike?
We hopped on the sleek, silver, Vespa-ish vehicle, maneuvering between the bike lane (We're going too fast!) and the road (We're going to get run over!)—neither of which seemed especially well-suited to the Jetson. To gain control, we twisted the throttle … and promptly crashed into a garbage truck.
Ultimately, e-bikes, which have a top speed of 20 mph, seem no more dangerous than fixed-gear bicycles or, for that matter, actual motorcycles or Vespas. The real danger is legal: by merely getting on the bike, we later discovered, we were technically breaking New York State law.
Suddenly these things are ubiquitous: delivering your pad thai, zipping around Times Square hauling pedicabs and increasingly being sold as luxury items by Gilt Groupe and other retailers. While electric bikes haven't caught on here like they have in Europe and Asia, experts figure that around 100,000 were sold last year in the U.S. They are a staple of New York's restaurant industry, allowing customers' food to be delivered quickly and piping hot, thanks to the bike's battery-powered boost. For the men and women who spend all day pedaling, e-bikes offer an energy-friendly alternative that requires a fraction of the work.
According to New York State and municipal legislation, electric bikes are 100 percent illegal to ride. The good news for e-bike proponents? The laws regarding the bikes are so contradictory and confusing that you'd be hard-pressed to find a police officer who would give you a ticket.
In mid-July, New York Councilman Dan Garodnick held a press conference with Councilman Jimmy Van Bramer to build awareness for a bill proposed last year to raise the fine for riding an electric bike on the sidewalk to $200—twice the amount one would receive for committing the same infraction on a bicycle. In February, Councilwoman Jessica Lappin introduced similar legislation that would double the fine for "riding a motorized scooter" from $500 to $1,000.
"The fines for breaking traffic laws [with e-bikes] should be even higher than when you break rules with traditional bikes," Councilman Garodnick told us, mentioning that the vehicles' weight, speed and relative silence all make them a danger to pedestrians.
The crackdowns seemingly have less to do with the dangers the bikes themselves pose and more with the behavior of the people riding them. Deliverymen are often cited as the source of the problem—riding on sidewalks, against traffic and through red lights on both regular bikes and the motorized variety. (In a constituent survey, Councilwoman Lappin found that 72 percent of the 1,305 respondents said they have been hit or almost hit by a delivery bike.)
Last week, shortly after we ordered a couple of pies from Not Ray's Pizza on Fulton Street in Fort Greene, a deliveryman, whose name, oddly, was Ray, arrived toting our food on an electric bike. He left his three-year-old e-bike double-parked on South Oxford Street, and while waiting for his tip, he told The Observer that he had bought the bike himself.
"I need it. Everyone at work has one," Ray said. "You wouldn't be able to get hot pizza otherwise." When we asked whether he knew the bikes were illegal, Ray laughed. "They're not illegal, not these types of bikes."
What kind of bike did he think he was riding?
"Electric bikes—they are not illegal," he said confidently. A couple on the street started shouting at Ray to move his illegally double-parked bike so they could move their car. Ray from Not Ray's hastily pushed his bike across the street.
As part of a new partnership with the Department of Transportation, several City Council members are launching a "delivery cyclist education and enforcement program" with restaurants that use bicyclists to deliver food. After six months of safety education, free helmet fittings and surprise inspections, the inspectors will start issuing DOT violations for up to $300 to businesses whose drivers fail to comply with the rules. (Policing whether the commercial bikes in question are e-bikes does not seem to be the initiative's priority.)
As one e-bike aficionado put it, "I totally support the initiative to put the onus on the restaurants whose delivery service employees ride on the sidewalk … If they were the ones being punished, instead of anyone riding an e-bike, then I think you'd see a real change of behavior very quickly."
Still, in order to get these bigger fines passed, the City Council is working from the assumption that all e-bike riders—even those obeying traffic laws—are violating state law simply by riding these relatively safe, low-powered electric bikes.
"To the best of my knowledge, these bikes have never been legal, so that's an issue only the NYPD can enforce," Councilman Garodnick said. "The bill we're proposing isn't to make these bikes illegal: they already are illegal, so there's nothing we can do about that. If they're illegal, they should be taken off the road."
There is a complicating factor, however: Though e-bikes are technically illegal to ride in New York City, prosecuting someone for riding one may be a violation of federal law.
In 2004, a 19-year-old Queens man was killed while riding a pocket-rocket (also known as a mini-motorcycle). The accident sparked a campaign by several City Council members to prohibit the operation of motorized scooters, a bill that eventually passed into law, over Mayor Bloomberg's veto.
The bill defined a motorized scooter as "any wheeled device that has handlebars that is designed to be stood or sat upon by the operator, is powered by an electric motor or gasoline motor that is capable of propelling the device without human power and is not capable of being registered with the New York State Department of Motor Vehicles."
But here's the catch, according to Juan Martinez, general counsel and policy analyst for the nonprofit Transportation Alternatives: New York's DMV isn't "capable" of registering an electric bike specifically because the federal government doesn't consider it a motor vehicle. In 2002, a federal statute amendment added "low-speed electric bicycles" to the definition of "consumer goods," putting e-bikes in the same category as regular bikes and all other non-motorized items. Only motorized vehicles—which are not considered "consumer goods"—can be registered with the DMV.
"It's a confused mess, and consumers have no idea what's going on," Mr. Martinez told The Observer. "It's just this weird kind of mistake, and no one has ever gotten around to fixing this oversight."
Mr. Martinez, who has studied the issue in great depth, said that there is a bill currently in the works that aims to fix the wording and get the state and federal laws on the same page, but there's no guarantee it will work.
"New York City has a law—and again I only found this because I was researching it for nine months, but New York City considers this same bike to be a scooter," he said. "And if a scooter has a top speed of 15 mph or less it's legal, but otherwise you are breaking the law [and] can get a hefty fine."
So when is an e-bike not a scooter? Well, never. Not all motorized scooters are electric bikes, but all electric bikes are motorized scooters. Got it? Adding a further layer of confusion is the fact that some motorized scooters are legal in New York City (provided their top speed is 15 mph), while all electric bikes are verboten, even though the law was originally passed to ban motorized scooters, not e-bikes.
Still, if e-bikes are illegal to ride, that doesn't mean they are illegal to sell or own. Boris Mordkovich, the founder of the year-old Queens-based EVELO e-bike store, had never heard of an electric bike store getting shut down.
"They are a consumer product, and you can legally buy them," he told us, while cautioning that paying too much attention to semantics and ordinances might cause people to miss the bigger picture.
"In New York, and in many of the other metropolitan cities, the objective is to get more people out of cars. So we're promoting public transportation. And electric bikes do just that: they make cycling more practical for a lot of people."
Mr. Martinez agreed. "It's a good product, it fills a need. Some people are physically unable to bike long distances in the city, but don't want to contribute to any more pollution. So an e-bike make sense for them."
The environmental case for the bikes is persuasive, and city officials supporting the fine increases are careful not to come across as anti-green.
"Look, I don't know," Councilman Garodnick told us when we asked if e-bikes could possibly be a more environmentally friendly alternative to cars, motorcycles and Vespas. "But there's a reason why they are illegal. They are neither bicycle or motorcycle, and as a result they are more deceptive. They are more dangerous, because they are heavier and faster than normal bikes."
Mr. Mordkovich groaned when we recited some of the concerns city officials have about e-bikes. "The fact of the matter is, yes, electric bikes are generally 20 to 25 pounds heavier than a normal bicycle," he admitted. "It's about a 15 percent difference. That's not enough to outlaw a vehicle."
So exactly how rampant is the electric bike menace in New York City? Don't ask. The NYPD doesn't keep specific records of electric bike infractions or confiscations—another legislative oversight Councilwoman Lappin is trying to correct with a law she introduced in late July. If it passes, the NYPD will have to distinguish between infractions or accidents that involve regular bicycles and those involving e-bikes in their monthly traffic data reports. Currently that data is lumped together.
When we called a representative from the NYPD for comment, he confirmed that the department doesn't keep special statistics on the types of vehicles that are fined, citing the complexity of the data. "We'd have to have special categories, like fines for every Honda car. There would be a bazillion categories," he said.
The NYPD representative was also unable to tell The Observer whether the city has fined any stores for selling e-bikes, or even if doing so was in itself an illegal activity. "That would be a question for Consumer Affairs," we were told.
But the Department of Consumer Affairs was equally reticent. Senior communications officer Abbie Looten told The Observer that her office doesn't count the electronic bikes sold in the city or keep tabs on the stores selling the bikes. Neither does the DOT, since the half-bike, half-scooter hybrids can't be registered.
It seems the only way New York City will ever get a definitive ruling on the e-bike quandary is if someone goes to court over a citation. But that's unlikely to happen in the near future, seeing as even the city's police department isn't exactly clear on the issue.
In late June, The Observer approached two NYPD officers standing near an electric bike in Times Square and asked if it we'd be able to legally ride one in the city.
"I think they're legal, as long as they're not scooters," one replied.
Oh. Well, what's the difference?
"I actually don't know."
"It's illegal," her partner chimed in. "But delivery guys can hide it well. When they see us, they just start using the pedals on the bike."
"That doesn't sound right," the first officer responded. "They're not illegal."
She paused and then looked at us. "Are they?"