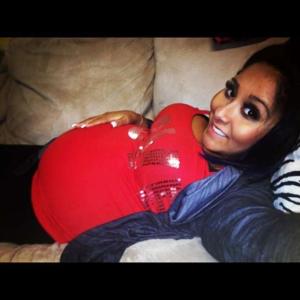 Now that we've had a few days to digest the news that Snooki had a baaaabyyyyy with boyfriend Jionni LaValle, MTV took the opportunity to announce that it is ending Jersey Shore after its sixth season. And like the classy network it is, it had camera crews from her spin-off at the hospital documenting the miracle of life, with her boyfriend filming the whole thing as well, possibly to go on the air at some point.
What did you expect from a network that's still making money off of Teen Mom and 16 & Pregnant?
The final season of Jersey Shore will premiere October 4, but if you're worrying that won't fulfill your cravings for over-tanned, over-hyped reality stars with nothing to say and too much air-time to say it in, don't worry! MTV has a lot of planned Jersey Shore bonus features!
From the official announcement:
"Gym, Tan, Look Back" will serve as the capper on a full day of Jersey Shore nostalgia beginning at 11 a.m. ET/PT on September 6 with an awards-themed marathon of Shore episodes, which will include the most iconic moments in the series' history. And then, the cast of the Jersey Shore will gather at the 2012 MTV Video Music Awards Pre-show (airing live at 7 p.m. ET/PT) to discuss the final season from the red carpet.

Additionally, following the season six premiere on October 4, MTV will give viewers bonus programming each week at 11 p.m. ET/PT following the final episodes, from fan-favorite after shows with the cast to the can't miss reunion special and much, much more.
And despite insistence from the network that it won't be capitalizing on the birth of lil' Lorenzo, it did happen to renew Snooki's spin-off, Snooki & JWoWW, for a second season at the beginning of August. Don't worry, it has a response for that as well:
MTV has no current plans for another spinoff featuring Nicole," a network spokesperson tells Examiner.com exclusively. "But we're incredibly excited for the story of Lorenzo's birth to play out on-air during Season Two of Snooki & JWoWW.
See, there isn't going to be a third show about Snooki, but why kill the goose that keeps laying the golden eggs when it already has said goose under contract in Hoboken?
By the way, show of hands: who out there watched the first season of Snooki & JWoWW? Anyone? No? Well, hopefully the baby will fix that.